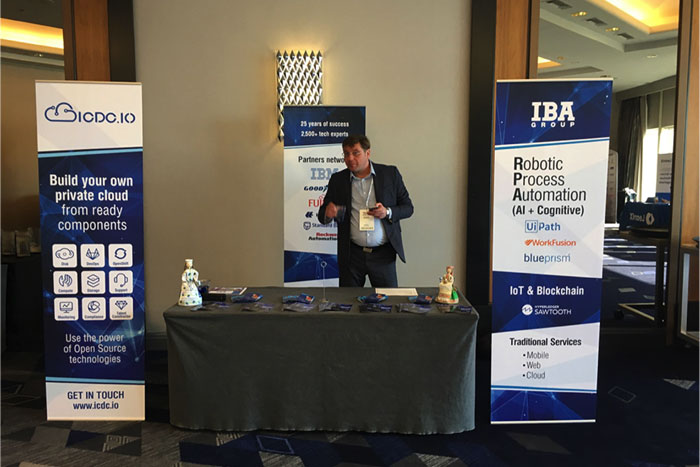 From September 23 to September 25, IBA Group participated in Technology Excellence Week 2019 that took place in Boston, Massachusetts. The event focused on business transformation in the digital, tech-enabled age.
In the course of three days, TEX Week 2019 featured a wide array of case study presentations, interactive workshops, and deep-dive discussion groups. The topics covered at the event included the following.
Moving internal systems into the cloud
Adopting intelligent automation, RPA, and AI
Machine Learning principles within a company setting.
At TEX Week 2019, IBA Group hosted a discussion entitled Deliver Real ROI with Intelligent Automation. Conducted in a small group of 10 to 15 individuals, the session's agenda was as follows.
How to prepare for Intelligent Automation implementation
What are the most effective approaches to implementing Intelligent Automation
Role of Center of Excellence. How to drive effective Intelligent RPA adoption across organization.
In addition, IBA Group attended the Intelligent Automation and Process Excellence tactical focus track sessions that highlighted the topics of machine learning, business transformation, Agile strategies, and operational excellence in connectivity and security. At the IBA Group booth, visitors had an opportunity to familiarize themselves with the company's RPA expertise.
TEX Week is the only US event solely dedicated to enabling businesses to streamline their operations and maximize their operational excellence in the digital era through the adoption of new technology tools.
To view our profile, click here
Business Essentials is Africa's premium networking and business directory.
Read more from our Pressroom:
____
Save Money on Bond Costs and Ace Your Home Loan Application
____
Steyn City to host the Discovery 947 Ride Joburg MTB Ride, Kids Ride
____
3 Supplements That Really Work for Weight Loss
---
Related Articles:
CRS Assists SARS-Embattled Clients With Tax Advisory Service
0 comment(s)
---
Magic Needle Mesolift
0 comment(s)
---
The Importance of CPR in the Workplace
0 comment(s)
---
Behind the Scenes - Do You Know What Goes into Booking the Perfect Business Trip?
0 comment(s)
---
Prepaid Water Meters Transform Utility Management in the Face of Growing Crisis
0 comment(s)
---