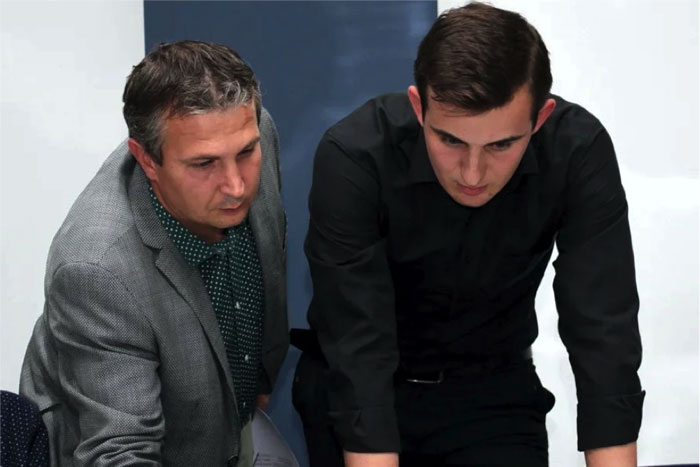 The laboratory operates as a part of the company's software development department.
In addition, IBA launched a two-week hackathon, focusing on creating digital twins. Four teams will work on four digital twin prototypes. The best solutions will be transferred to the IBA Accelerator to become full-scale products. IBA Group invited business representatives to evaluate the results of the hackathon, which will allow for more efficient assessment of products in terms of market demand.
The hackathon participants work in separate work areas and share common virtual space for collaboration, namely, Jira and GitLab. This approach enables IBA Group to grow its expertise in-service.
According to Dmitry Konevtsev, Head of Software Department at IBA Group, 20 employees of IBA Group work in the laboratory. For the company, it is an opportunity to deepen its expertise in the field of digital twins, master skills, and gain product development experience in several technological areas. IBA Group's digital twin projects combine such technologies as the Internet of Things (IoT), computer vision, and machine learning (ML).
A digital twin is a digital replica of a living or non-living physical entity. By bridging the physical and the virtual world, data is transmitted seamlessly, allowing the virtual entity to exist simultaneously with the physical entity. Digital twin refers to a digital replica of potential and actual physical assets (physical twin), processes, people, places, systems, and devices that can be used for various purposes.
Digital twins are used in the energy industry, aviation, manufacturing, transport, logistics, and healthcare.
To view our profile, click here
Business Essentials is Africa's premium networking and business directory.
Read more from our Pressroom:
____
IBA Group Hosts RPA Discussion in Boston
____
Save Money on Bond Costs and Ace Your Home Loan Application
____
Steyn City to host the Discovery 947 Ride Joburg MTB Ride, Kids Ride
---
Related Articles:
Embrace AI to Remain Competitive in the Digital Business Environment
0 comment(s)
---
Restless Leg Syndrome
0 comment(s)
---
How Can I Wipe My Credit Clean?
0 comment(s)
---
The Smart Money is on Local Tech, Especially for 4IR
0 comment(s)
---
TUHF Secures R700 Million Nod from Standard Bank
0 comment(s)
---