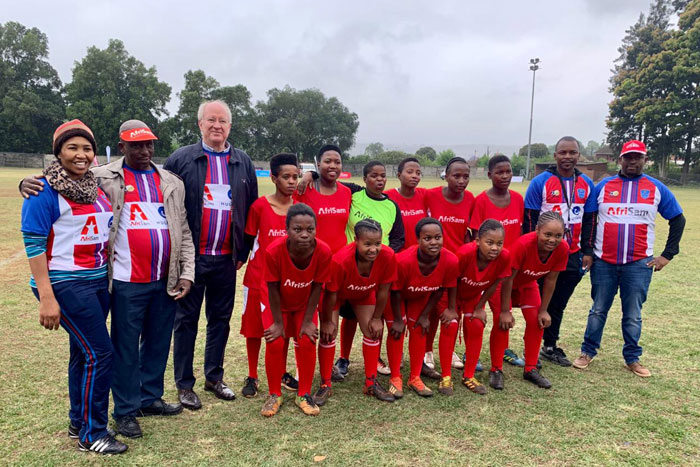 Leading construction materials group, AfriSam, today kicked-off its second AfriSam Ima Nathi Soccer Development Programme in association with the South African Football Association (SAFA) and Msunduzi Local Football Association.
To celebrate the launch of the programme, local community members were invited to a celebrity-filled opening game at the Northdale stadium between AfriSam employees and a local SAFA team, each team supplemented with legends such as as Mbulelo "Old John" Mabizela, Sandile "AK47" Ndlovu, Dumisani "Makhokhoba" Ngwenya, Andile "Sguta" Cele.
Ima Nathi is a SAFA coaching programme, implemented by the SAFA regions at Local Football Associations (LFAs) across the country. The focus of the programme is to train coaches to develop players – boys and girls – from the ages six to 18 years.
"AfriSam is proud to join as a sponsor of the Ima Nathi programme that will provide the foundation of tomorrow's skilled South African footballers – together building our nation's football skills from the grass-roots level up", commented AfriSam CEO, Rob Wessels.
With AfriSam's Construction Materials plants operating in the same community as the Msunduzi LFA, it was a natural choice for AfriSam to provide its support to this specific LFA.
AfriSam's 3-year sponsorship makes provision for the following critical aspects as part of the Ima Nathi programme:
Coaches: all costs associated with the upskilling of coaches including the various courses to obtain B, C and D-level licences, coaching course educational material and on-field equipment. Skilled coaches will mean better skilled players, which in turn will create bigger opportunities for the Msunduzi players.
Players: In addition to obtaining technical football knowledge and skills, all players in the Msunduzi LFA will undergo a valuable life-skills programme.
Kit: sponsorship of all Msunduzi LFA football player jerseys.
The AfriSam Ima Nathi programme will provide coaches from the Msunduzi LFA with the necessary skills and knowledge to train local football teams. These coaches will in turn train the area's young, aspirant footballers; keeping them off the streets. While training, players will learn invaluable skills such as leadership, hard work, self-discipline and social skills.
"One of AfriSam's corporate social responsibility focus areas is youth development. We are excited to, once again, join hands with the local community to create a positive future for our youth and what better way to achieve this than through the passionate sport of football. We look forward to the many future national football team players that will come from the Msunduzi Local Football Association. In the spirit if Ima Nathi we say: stand with us, play your part, get involved", concludes Wessels.
To view our profile, click here
Business Essentials is Africa's premium networking and business directory.
Read more from our Pressroom:
____
Tactical Management may be the Answer to Operational Challenges in Your Business
____
Learnerships: The Future of Skills Development in South Africa
____
Paper to Vapour: The Future of Printing in South Africa
---
Related Articles:
How Long Does Debt Counselling Take?
0 comment(s)
---
The Willard® BLUE Battery Promotion Has a Winner!
0 comment(s)
---
The Development of a Solar Photovoltaic Market in Ghana
0 comment(s)
---
Businesses to be Verified Based on New B-BBEE Code Amendments from 01 December
0 comment(s)
---
SAP SuccessFactors & Skillsoft
0 comment(s)
---