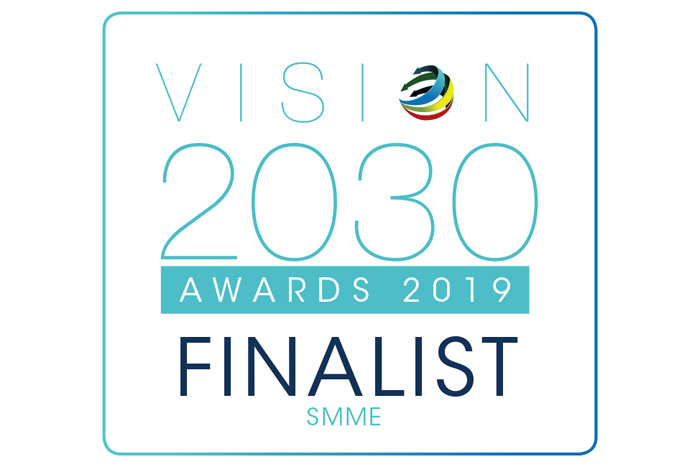 The annual Vision 2030 Awards have announced their 2019 finalists!
The awards recognise the achievements and success stories of organisations, enterprises and individuals that are actively demonstrating alignment to the government's Nine-Point Plan to boost economic growth and achieve the milestones set by the National Development Plan (NDP).
The overwhelming number of nominations for the various categories of the awards casts a positive glow on the future of South Africa and showcases the commitment of both the public and private sectors to the NDP.
"We are excited and proud to have been identified as a finalist for the SMME Award, as this nomination is confirmation of the professionalism, dedication and teamwork of our people. Our qualification is an indication of our commitment to driving growth in the South African economy."
With categories such as the Education Award, Infrastructure Development Award, SMME Award and the Driver for Change Award, the Vision 2030 Awards are all encompassing when it comes to recognising champions of the National Development Plan.
Leading by example, the winners showcased by the Awards will inspire their sector peers, and stakeholders nationwide to pledge commitment to the NDP – not in words alone but also in actions that move the nation forward.
The awards, and the accompanying Vision 2030 Summit, draw together a host of business and government leaders to have crucial representation from all key decision-makers because it is only through extensive Public-Private Partnerships, we believe, that South Africa by 2030, will have become the country envisioned by the National Development Plan.
'The Vision 2030 Awards and Summit help connect business and government, by identifying and sharing best practices of leading companies and organisations that have implemented successful development and investment projects and can clearly demonstrate success with measurable returns to stakeholders in relation to projects aligned to the NDP,'.
The winners will be announced and celebrated on 20th of November 2019 at Emperors Palace, Ekurhuleni. For more information, contact Ntombi Mazibuko on +27 11 074 7181 or ntombi@maredit.co.za
To view our profile, click here
Business Essentials is Africa's premium networking and business directory.
Read more from our Pressroom:
____
Data Investment: Start Now for Future Gains
____
Xela Rederm: What It Is and How It Can Work for You
____
Say Hello to Truzo: SA Fintech Startup Envisionit e-Pay Rebrands for Global Expansion
---
Related Articles:
How Long Does Debt Counselling Take?
0 comment(s)
---
The Willard® BLUE Battery Promotion Has a Winner!
0 comment(s)
---
The Development of a Solar Photovoltaic Market in Ghana
0 comment(s)
---
Businesses to be Verified Based on New B-BBEE Code Amendments from 01 December
0 comment(s)
---
SAP SuccessFactors & Skillsoft
0 comment(s)
---