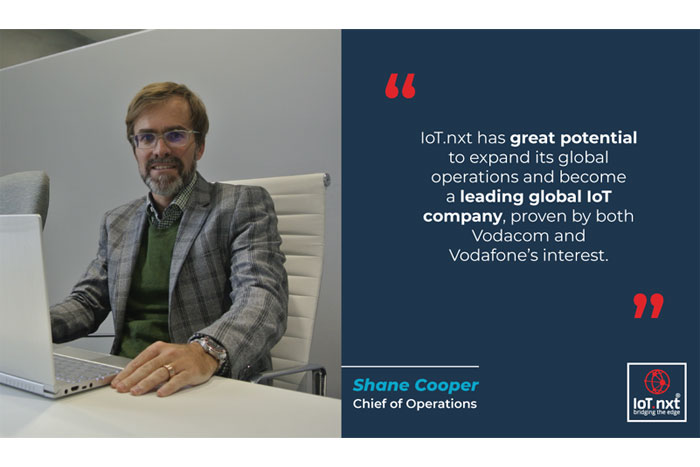 As its global expansion accelerates, innovators in IoT technology IoT.nxt appointed experienced strategist Shane Cooper as Chief of Operations this month. Cooper joins IoT.nxt from the Vodacom Group, where he served as Managing Executive of Strategy.
"Shane has a deep understanding of the possibilities of IoT technology and strategy for enterprise and his insight and vision will help us drive our entry into new markets and territories. He has had a close relationship with the IoT.nxt team and was central to discussions that led to Vodacom's acquisition of a majority stake in IoT.nxt earlier this year," says IoT.nxt CEO, Nico Steyn.
According to Cooper, who first encountered IoT.nxt shortly after the company was founded in early 2016, it was IoT.nxt's focus on innovative edge technology that attracted his attention. "This set the company apart from what many others in the fast-growing IoT industry were developing at the time. It was revolutionary, as everyone else was talking about the cloud," Cooper says.
"IoT.nxt has great potential to expand its operations and become a leading global IoT company, proven by Vodacom and Vodafone's interest. Beyond that, IoT.nxt has also registered the attention of the likes of consulting giant Gartner and leading tech companies like Dell, Microsoft, Fujitsu and ADTRAN.
"This is further validation that we are heading in the right direction, but also brings with it the pressure to constantly remain ahead of technological developments. And thanks to the Vodacom shareholding we now have the funding and support to accelerate the building of a global company," notes Cooper.
As Chief of Operations, Cooper will drive the company's global expansion by being alert of and mitigating growing pains that start-ups typically encounter in the journey to become truly international organisations.
At Vodacom Cooper was responsible for strategy for the Group, which included all operations across the Group in all territories in which it operates. His key focus was to devise strategy that positions the company for the future, as the core telecommunications offerings matured, and new opportunities and expanded services were prioritised. The digitalisation of business and guiding enterprises on that journey was a critical focus.
Cooper holds a MBA from Heriot-Watt University, a B.Com Accounting from the University of Port Elizabeth and completed a B.Com Honours (Accounting) degree at the University of KwaZulu-Natal.
To view our profile, click here
Business Essentials is Africa's premium networking and business directory.
Read more from our Pressroom:
____
Miss SA Sponsors Congratulate New Miss Universe, Zozibini Tunzi on her World-Class Win
____
____
Future Jobs – What will They Look Like and How do We Prepare for Them?
---
Related Articles:
The Fourth Industrial Revolution
0 comment(s)
---
The Sun Always Shines on the Sonique Side of Life!
0 comment(s)
---
ContinuitySA Partnership Programme Officially Launches
0 comment(s)
---
Intuition as a Leadership Tool – It's Like Having the World Wide Web in Your Head
0 comment(s)
---
Do You Really Know How Much It Costs to Manage Your Company Travel Manually?
0 comment(s)
---