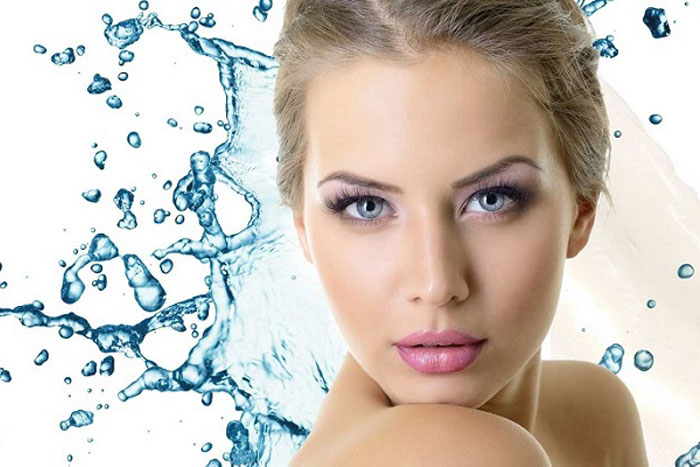 While relaxing, facials don't always offer you the best bang for your buck
Often they merely involve the layering of products you could buy and use yourself. This is why, if you really want to benefit, a Skin Renewal medical facial is the way to go. Performed by a doctor or highly trained therapist, these type of treatments are the kind you could never DIY at home and they all serve up dramatic results in terms of hydration, glow and all round rejuvenation.
The HydraTouch Facial
Our latest and greatest to date, a HydraTouch facial can restore your skin's radiance while delivering an intense dose of moisture. Any skin type would be a candidate and it's the type of thing you could easily book before a big event to ensure you look your best.
An all-in-one solution, a Hydra Touch facial combines hydra-dermabrasion, a gentle peel, transdermal mesotherapy and skin tightening in a way that's incredibly gentle with no downtime. For those who don't know, hydro-dermabrasion is a gentle yet very effective way to exfoliate. Instead of using crystals, your therapist will use water jets to rid your complexion of the dry skin cells that can clog your pores and dull your natural glow. As far as transdermal mesotherapy goes, this involves using an electroporation device that emits gentle electrical pulses to painlessly deliver a hydrating serum into the deeper layers of your skin.
Thanks to its multi-layered approach, a HydraTouch facial improves the look of fine lines and wrinkles, puffiness, mild sagging, dehydration, age spots, enlarged and blocked pores as well as breakouts.
The Anti-Ageing Mesoglow Facial

Another no downtime treatment that's suitable for all skin types, a Mesoglow facial kicks off with a gentle radiance-boosting microdermabrasion session. This involves blowing a Jetstream of medical grade crystals across the surface off the skin to effectively "sandblast" away complexion-dulling dead skin. (Don't worry! It doesn't hurt one bit and patients describe it as feeling like a gentle tickle.)
Next up, your therapist will perform a transdermal mesotherapy treatment to push our very own specially formulated anti-ageing elixir into the skin. While the HydraTouch facial puts the focus on moisture, a Mesoglow facial is all about turning back the hands of time. This is something it can do very well thanks to an award-winning mix of collagen-stimulating growth factors, peptides, amino acids, vitamins and nucleic acids.
Immediately after the treatment you'll get to enjoy more radiant-looking, supple-feeling skin. However, the full effect of each treatment takes approximately 3 months to manifest as your new collagen blooms. In a way, it's kind of like the gift that just keeps giving!
The Carboxy Mesoglow Facial
A Mesoglow facial is a great way to treat the first signs of ageing, but if you're dealing with those that are slightly more advanced or have sun damaged skin, a Carboxy Mesoglow facial would be the way to go. Again, there's no downtime, although there's a small chance you might experience a little bruising at one of the injection sites. Fortunately, this will be easy to cover with a little concealer.
To start, your therapist will give you a gentle yet effective alpha hydroxy acid skin peel to get rid of dry, dead skin cells and stimulate collagen synthesis. Next, a transdermal mesotherapy session delivers our aforementioned anti-ageing elixir deep into your skin. The third and final step, however, is what's going to help make a dramatic difference to the quality of your skin – carboxytherapy treatments to 16 areas including eyes, face, neck and décolletage.
Carboxytherapy involves injecting carbon dioxide gas just below the surface of your skin. This reoxygenates your skin, boosting its circulation in a way that stimulates the production of new capillaries. It also jump starts your skin's regeneration abilities, including the creation of more skin-tightening collagen. The final result is more radiant, less lined, tighter-looking skin and a reduction in under eye circles thanks to the boost in circulation.
Typically, we'd suggest 4 to 6 treatments spaced 2 to 4 weeks apart for you to enjoy the accumulative benefit. You can then maintain your results with a touch up session every 6 to 8 months.


To view our profile, click here
Business Essentials is Africa's premium networking and business directory.
Read more from our Pressroom:
____
You Don't Need to be Tied to Your Home Loan Interest Rate
____
How the Suburbs are Driving Economic Growth
____
Bigen Exemplifies 'Profit with Purpose' at SVAI Event
---
Related Articles:
Zoom Fatigue - Five Reasons Why You Want to Step onto a Plane Again
0 comment(s)
---
Supporting Small Business Through Ecosystem Boost
0 comment(s)
---
The Africa Continental Free Trade Area Protocol on Investment: A Prickly Pear for SADC and other Regional Economic Communities
0 comment(s)
---
#TakeControl Over Your Debt!
0 comment(s)
---
In a Post Covid-World, the Africa Continental Free Trade Area could not come soon enough
0 comment(s)
---