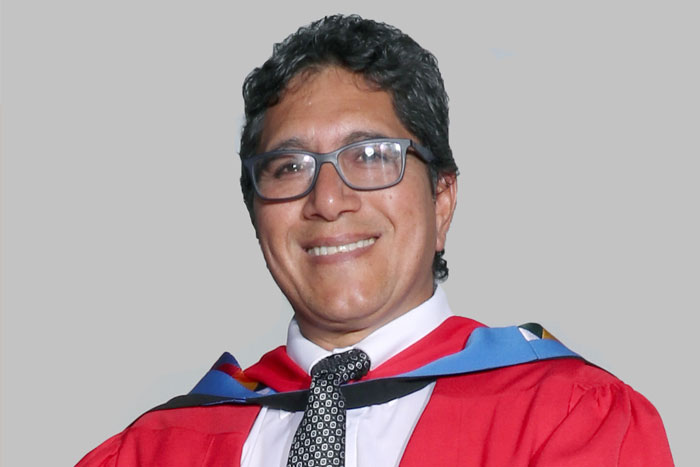 When Dr Riedwaan (Rudi) Kimmie stepped into the role of CEO of TSIBA Business School at the beginning of May, the country was under the unprecedented Covid-19 national lockdown, a time that presented a less than ideal environment for anyone setting on a new professional path.
As someone who has spent most of his life in the education system, assuming this role at the height of a pandemic that has upended social and business norms presented the most opportune moment for this passionate academic whose impactful leadership has seen him occupy strategic positions in both the private and the public sector.
Rudi, as he is better known, says the current phase of his career is geared towards creating a legacy, with responsible leadership being at the centre of his quest for lifting the game in business training and entrepreneur development.
The 57-year-old believes that the "new normal" era imposed by Covid-19 should help fast-track a shift in the country's education system to prepare students with skills and  necessary resilience to tackle future uncertainties.
"We need to move faster in ensuring that our academic programmes are built to create resilient future leaders who are able to adapt to the changing world and build stronger economies," says Dr Kimmie.
"This is what the TSIBA value systems are based on. We are not just a business school; we are enablers of innovative and thoughtful minds."
Heading the TSIBA Business School, one of the country's most innovative and leadership-focused business institutions, aligns with Rudi's career path which marries nearly three decades worth of experience in academia and private sector leadership.
The Kimberly born academic, who holds a PhD in Leadership Studies from the University of KwaZulu-Natal (UKZN), spent a significant part of his career in the development of training courses for people in various sectors, including mine supervisors and managers before landing in the hallways of the university.
His time at UKZN was, in part, spent facilitating course development for the university's extended learning programmes.
It is this vast experience in education and training that has made Rudi a valuable pick for the job of CEO of the TSIBA Business School.
"While I have only recently taken the mantle of the CEO at TSIBA, I aim to make a success of this moment and the role I play,  and hopefully to be known for adding exponential value to the unique TSIBA Business School curriculum," he adds.
The Cape Town-based private higher learning institution, which is part of the TSIBA social enterprise, has gained a well-rounded academic in Rudi, whose value-based approach in education is steeped in fostering greatness among students.
According to Rudi, TSIBA's flagship degree, the Bachelor of Business Administration in entrepreneurial leadership is a true reflection of the institution's innovative and industry-focused training, which not only focuses on academic skills but attitude and mental fitness which equips the students with mental fitness to challenge the norms. "At TSIBA, we turn Maslow on its head. Our view is that unless people have a strong sense of their own purpose an impactful and fulfilling career in business is less likely" , stresses Rudi.
Rudi is aware of the challenges facing graduates in the current economic climate, which include the prospect of unemployment and a misalignment of skills required by the workplace that render many graduates unemployable.
"These are the gaps which we are trying to bridge, and our qualifications are closely connected with  industry needs, both technical and human. We produce graduates who are independent thinkers and problem-solvers with the right solution orientated attitude," he enthused.
This is evident in the Business School's high post-graduate employment rate since opening doors in 2004, while the alternative of pursuing the entrepreneurship path presents  further options for s innovative TSIBA graduates. What is remarkable for such a relatively small institution is it's success in producing Mandela Rhodes Scholars. No less than eight TSIBA students have been awarded with the prestigious Mandela-Rhodes Scholarship, even more remarkable perhaps as almost all TSIBA students are first generation university students and graduates. The high success rate of the institution is what Rudi plans to maintain as he steers the institution towards a future of producing social-conscious leaders.
To view our profile, click here
---
Related Articles:
SolarAfrica Accelerates Growth Strategy with Three Key Staff Appointments
0 comment(s)
---
AI can make a profound difference to retail decisions
0 comment(s)
---
Zutari Offers its Expertise for Mandatory EPC Compliance for Buildings
0 comment(s)
---
Should Companies have a Moral Voice
0 comment(s)
---
Theranostics in the Fight Against Cancer
0 comment(s)
---