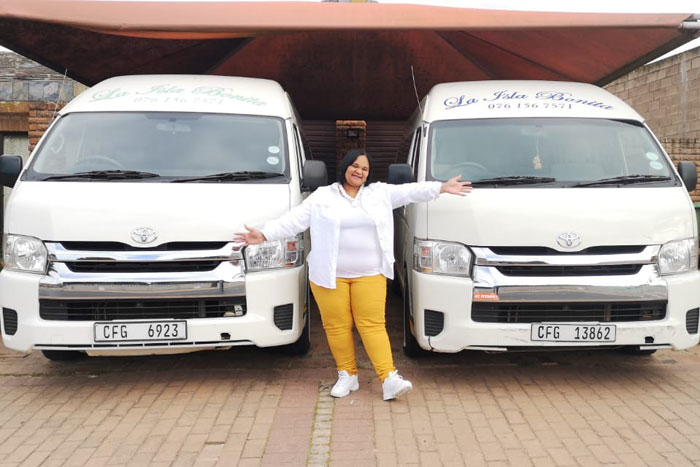 By Kelly Sin Hidge, Marketing SAICA Enterprise Development and The Hope factory.
The new buzz word around town 'adaptagility' speaks into a crucial competitive advantage that catalyses a business into growth and sustainability despite change. This ensures either the survival or failure of small businesses today as they were hit by the economic battle during COVID19 this year. Bonita Ellen Bonthel Jonkers, owner of Laisla Bonita Transportation Services continues to show this competitive advantage as she stays motivated to sustain her business through all the challenges of COVID-19.
Laisla Bonita Transportation Services is a 100% Black Women-Owned EME that provides transportation services to various stakeholders including staff members of small businesses and school-going learners, operating in the Vredenburg area, Western Cape. Her business was birthed out of the love for people, a passion for business, which stemmed from her own father who was a great entrepreneur in the transport industry in Port Elizabeth. It was born from the recognition of a great need in the community, to provide safe and reliable transport both for school kids and working adults.
In a recent interview with Bonita we hear her thoughts around the impact of COVID19, her commitment and perseverance to better her business through enterprise development, as well as adapting to new ways of learning through digital platforms.
Bonita is a current beneficiary on a bespoke SAICA Enterprise Development (SAICA ED) programme, sponsored by Aurora Wind Power with the aim of promoting sustainable business practices and Financial Excellence. "I was so proud to be given an opportunity to be part of this Enterprise Development programme. I wish to acquire the entrepreneurship skills needed to help my business to stay afloat during this economic crisis caused by the pandemic. I am thankful to have crossed paths with incredible people that taught me so much about business", says Bonita with regards to being on the two-year Enterprise Development Programme. Many businesses had to undergo adjusting their business interventions to follow through successfully during lockdown. Aurora Wind Power, in collaboration with SAICA ED made the wise decision at an early stage in May to modify the Enterprise Development Programme activities to allow for continuous online coaching and training in support of their beneficiary, Bonita.
"Due to COVID-19 our interventions were required to be digitally adapted and to be conducted virtually by shifting all training and coaching sessions to online training platforms. Bonita is very committed and willing to learn which positively contributes towards developing her business. We are happy with the outcomes achieved to date and look forward to the continued success of this project for the remainder of this year and next", says Dhiraj Mathapersadh, SAICA ED Project Officer.
Bonita shares on the hard knocks of the pandemic on her services, "Due to the pandemic all schools and non-essential businesses closed and it resulted in a significant loss of income for my transportation business. Many people were unsure and scared about their health and safety and decided not to make use of my services for many months which impacted my business severely."
Despite the negative impact Bonita continues to stay motivated and keen to learn all she can to better her business. We are thrilled to confirm that her transport services are up and running again. Her current clients being the local KFC and Zebro's staff and school learners within Vredenburg.
Furthermore, Bonita showed outstanding willingness to try and adapt to online coaching since the kick-off of the programme in May. "One is never too old to push past the boundaries of your comfort zone and learn to challenge oneself. This type of online learning intervention was totally different from the normal way of learning but it shows that where there is a will to learn there will be a way to teach. It has been a such a positive journey for me so far", shares Bonita.
About the programme
The Enterprise Development programme covers leadership, business, finance and industry expert coaching; accredited New Venture Creations skills development training as well as accounting and bookkeeping support. Additional support includes opportunities to market and funding access.
Through this programme, Aurora Wind Power and SAICA ED aims to assist Bonita in improving her capacity to manage and grow her business, to generate and sustain income and further employment for the business to participate in the broader economy.
"Aurora Wind Power are pleased to be working in partnership with SAICA ED on this project. Despite the impacts of Covid-19 lockdown regulations, the bespoke 2-year enterprise development programme is progressing well under the application of digital platforms. We are most impressed with the professional manner in which SAICA ED have implemented the programme and the constructive feedback that has been received from the beneficiary enterprise", Angela Harrison Economic Development Manager at Aurora Wind Power
"Adaptagility is the amplified synergy of adaptability and agility – Both are vital for thriving in these uncertain ever-changing times."
– Tony Dovale
SAICA ED, together with Aurora Wind Power look forward to the next few months with Bonita and her continuous achievements in growth and adaptagility toward greater financial excellence and business sustainability.
Media contact: Kelly Sin Hidge
To view our profile, click here
---
Related Articles:
SolarAfrica Accelerates Growth Strategy with Three Key Staff Appointments
0 comment(s)
---
AI can make a profound difference to retail decisions
0 comment(s)
---
Zutari Offers its Expertise for Mandatory EPC Compliance for Buildings
0 comment(s)
---
Should Companies have a Moral Voice
0 comment(s)
---
Theranostics in the Fight Against Cancer
0 comment(s)
---