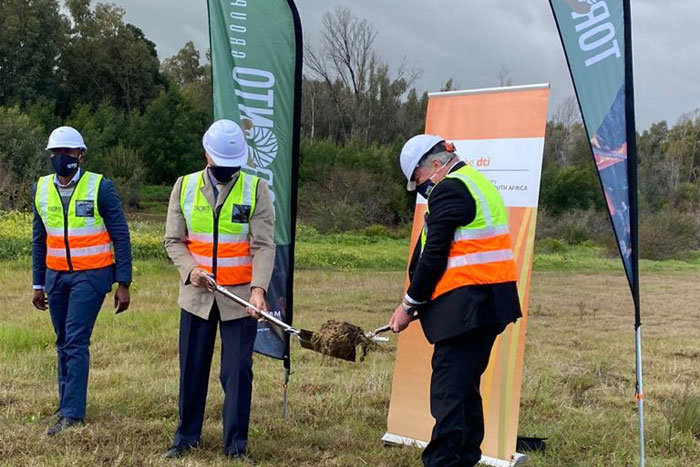 On 18 August 2020, Toronto Group and Lesedi launched the construction of a new Charcoal Manufacturing Plant in the Swartland Municipality near Wellington
The plant will be the largest charcoal production facility in the Southern Hemisphere and will produce 10,000 tons of export grade charcoal, utilising biomass from invasive alien vegetation.
In January 2020, Lesedi was formally appointed as the EPCM representative for the Toronto Group to design, project manage, commission and to fully integrate the production facility.
The event was hosted by WESGRO, and Trade, Industry and Competition (DTIC) Deputy Minister Fikile Majola officiated the soil-turning ceremony. The Toronto Project is financed by the IDC and the DTIC Black Industrialist Scheme.
The Toronto Group complies with the Forest Stewardship Council (FSC) regulations which governs "Chain of Custody and Controlled Wood", ensuring traceable wood sources to foster sustainable development.
The completion of the 3040m2 manufacturing plant is anticipated to take 8 months with first production expected during the first quarter of 2021. The charcoal facility will produce approximately 150 direct jobs and 70 indirect job opportunities throughout the value chain.
The source of raw material will be invasive species Blue Gum (Eucalyptus) and Black Wattle (Acacia).  Products will include Lump Wood Charcoal, Biochar as a by-product, and activated carbon.
#DTIC #watersecurity #WESGRO #Toronto #Lesedi
About Toronto
Toronto Group specializes in the manufacturing of high-quality lump wood charcoal. It is based in the Western Cape, with its primary production facility located in The Swartland Municipality. Its primary feedstock is alien invasive species which are mainly harvested under the auspices of the Working for Water Programme, to enhance the flow of water in riparian zones.
Press Contacts: Phillip Mulungo (CEO) Toronto Group
About Lesedi
Lesedi is a leading South African Engineering Procurement and Construction (EPC) company operating in the power generation, mining, oil and gas and renewable energy environments. Lesedi has extensive experience in the execution of complex bespoke engineering projects in Africa.
Press Contacts: Shane Pereira (Business Development Executive) Lesedi
To view our profile, click here
---
Related Articles:
Important B-BEE Affidavit Criteria
0 comment(s)
---
Scramble for Covid-19 Vaccine Exposes Pitfalls of Africa's Pittance Investment in Research and Development
0 comment(s)
---
SANAS R47-03 and its Impact on Measured Entities
0 comment(s)
---
WhatsApp's Privacy Fiasco Draws Attention to The Cybersecurity and Privacy Risks of Messaging Apps
0 comment(s)
---
Build You Mental Resilience
0 comment(s)
---