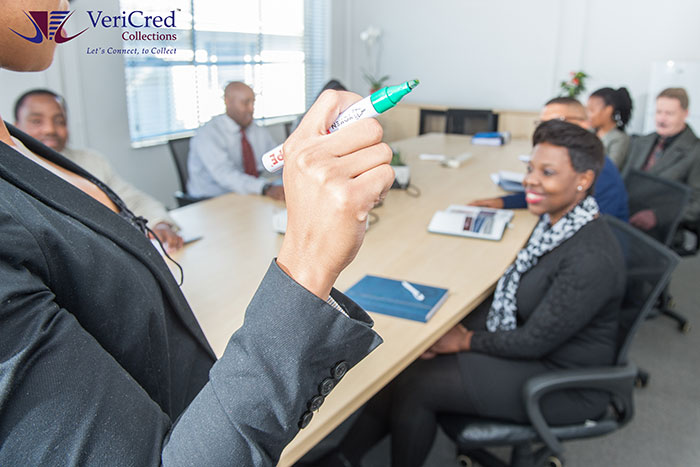 2020 Marks a year of celebration for VeriCred Collections
Our dream of 30 years ago, to establish the leading debt collection company in the marketplace, became a reality. VeriCred has expanded significantly during this time. Our operations are thriving, whilst constant development in the quality and services we offer to our clients, are a priority.
Today, we provide employment to over 1200 employees across 16 branches in 15 strategically situated call centres operating in South Africa, Namibia and Botswana. VeriCred has firmly positioned itself as the debt recovery expert in the industry. Our strategic coverage, combined with a diverse and experienced management team utilising the most advanced technology, has made VeriCred the Accounts Receivable Management (A.R.M.) partner of choice.
What makes us different? Over the years, VeriCred has established a remarkable track record with major corporate clients from virtually every spectrum of the marketplace. Our clients represent retail, medical, financial and public institutions, both at a provincial and municipal level. VeriCred strives to consistently comply with the specific needs of our distinct client base. Whether you're operating as a large listed entity or as a smaller enterprise with a less comprehensive debtor's book, VeriCred Collections focus on offering industry specific tailored solutions which will exceed your expectations.
VeriCred Collections provide clients with an exceptional standard of service whilst leaving debtors with their dignity intact. #TakeControl with VeriCred Collections. Contact us at 018 294 1000 or email us at vericred@vericred.biz today!
To view our profile, click here
---
Related Articles:
Bigen celebrates 50 years of "doing good while doing business"
0 comment(s)
---
Youth Employment: Finding Alternative Opportunities in the Township Economy
0 comment(s)
---
Simple Solutions
0 comment(s)
---
Important B-BEE Affidavit Criteria
0 comment(s)
---
Scramble for Covid-19 Vaccine Exposes Pitfalls of Africa's Pittance Investment in Research and Development
0 comment(s)
---