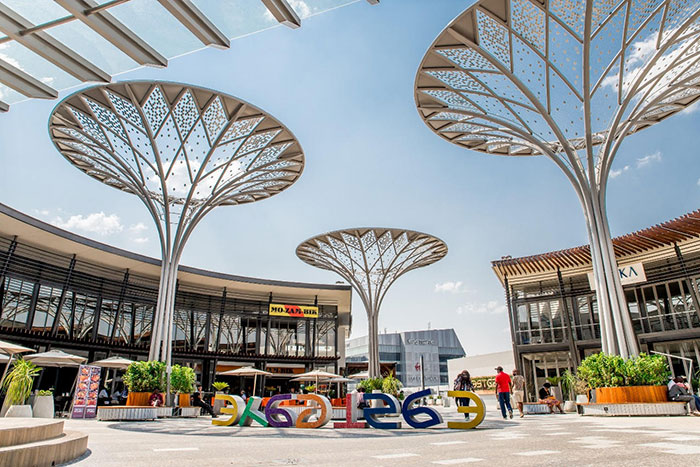 Over a year ago, only a few could have predicted that the coronavirus would spread widely beyond the borders of China, and spiral into a global pandemic -cause a recession and change the trajectory of many retail businesses
By Amelia Beattie, Liberty Two Degrees Chief Executive
This has caused a massive shift, and the pandemic's impact has forced the sector to quickly adapt, abruptly enforcing a no point of return. It is, however, not all doom and gloom for smart retail. The sector offers opportunities in the recreation of customer experience post the pandemic.
The first of these opportunities is striking the balance between rediscovering human contact in brick and mortar and maximizing the online experience through an omnichannel approach. While some may hold the view that the rise of e-commerce will eliminate the physical store, this is not quite the reality, locally. In fact, a slightly different take is seen with foot count in quality, well-positioned malls increasing as people still look to this space to drive an overall lifestyle experience. As a result, we need to consider and re-examine how the digital and physical world joins forces to thrive in the new normal – with agility at the fore.
To survive and thrive in this newfound reality, the first step is to maximize insight obtained from smart data solutions, with opportunities to be delivered alongside traditional experiential strategies. In addition, a proliferation of digital solutions that bring the much sought-after convenience and frictionless experiences to customers and enhance operational efficiencies of tenants is key.
The expectation for customer experience to be consistent across all touchpoints, to ensure customer needs are being met wherever interaction occurs with brands, has been a long-standing one, exacerbated by the pandemic. An environmentally sustainable approach to the customer experience journey, that considers the impact of the environment forms part and parcel. Building tomorrow together with customers, both tenants, and shoppers, to make a positive and impactful change is an important opportunity to grasp. The United Nations has developed sustainable development goals to be achieved by 2030. Of these goals, the most critical to reducing the footprint on the natural environment include:
Ensuring availability and sustainable management of water and sanitation for all.
Ensuring access to affordable, reliable, sustainable, and modern energy for all.
Making cities and human settlements inclusive, safe, resilient, and sustainable.
Ensuring sustainable consumption and production patterns; and
Taking urgent action to combat climate change and its impacts.
Creating robust assets that can benefit generations, allowing for agile and adaptable environments that align to net-zero goals is vital and one that the sector should consider in policymaking. Behavioural change is a significant driver of minimising environmental impact and facilitating awareness. For tenants, green leases with governing energy efficiency, water consumption, and waste management are one way of many to achieve this.
For shoppers, instituting educational programmes aimed at educating, inspiring, and appealing to shoppers to change and join the movement to adopting climate-positive practices in their everyday lives is a good start. It is imperative to take stakeholders with you on the sustainability journey.
Creating safe spaces, as the third opportunity, should not be compromised and should underpin all experiences within retail environments, this shows the duty of care to stakeholders. Retail environments should exemplify the highest standards of hygiene and safety achieved through; strategically placed sanitisation stations, continuous fogging, physical distancing measures, touchless parking, kerb-side pick-ups, and decals to support COVID-19 safety measures across various high-volume areas among other things. Safeguarding shoppers, tenants, and mall employees through stringent security measures are critical.
While safety measures have been adopted across many malls, these have been necessitated by the COVID-19 crisis. With the new normal firmly in place, many measures will more than likely be adopted for the long term. Customers will also start looking for brands that align with their personal priorities including visible safety and hygiene measures and experiential offerings that consider and minimise the impact on the natural environment. This will be crucial for business success as well as setting retailers apart. This, coupled with providing customers with the much-needed convenience as well as the flexibility to meet ever-changing lifestyles will be the true differentiator.
The pandemic took its toll on the industry, however, it unlocked opportunities for the retail sector to be innovative while placing the consumer top of mind. Moving forward the retail sector must transform and adapt the narrative.
As Liberty Two Degrees, our commitment to maintaining the quality of our assets predates the pandemic, and we have long maintained that quality, established through our building blocks of Smart Spaces, Good Spaces, Interactive Spaces, and Safe Spaces is a key driver in fostering customer loyalty – and this has not, and will not, change.
---
To view our profile, click here
---
Related Articles:
SolarAfrica Accelerates Growth Strategy with Three Key Staff Appointments
0 comment(s)
---
AI can make a profound difference to retail decisions
0 comment(s)
---
Zutari Offers its Expertise for Mandatory EPC Compliance for Buildings
0 comment(s)
---
Should Companies have a Moral Voice
0 comment(s)
---
Theranostics in the Fight Against Cancer
0 comment(s)
---