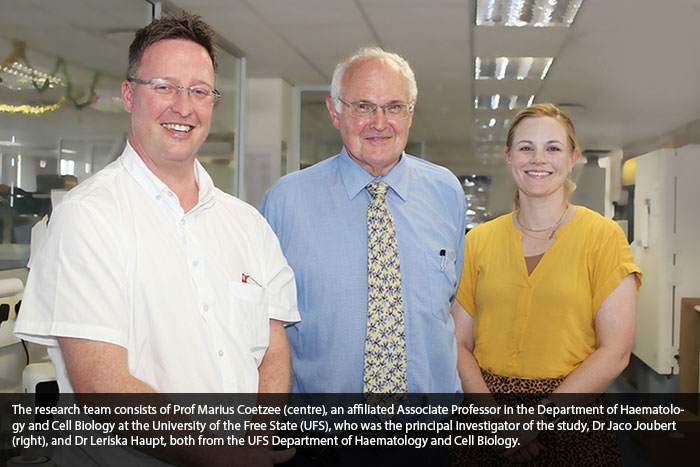 South African clinical research organisation (CRO) FARMOVS, the Adult Bleeding Disorder Clinic at Universitas Academic Hospital, and experts from the University of the Free State (UFS) recently conducted a ground-breaking Phase 1 clinical trial to investigate the efficacy of a new application of an existing drug in patients with haemophilia A.
Months of hard work mean that a new possible treatment for this serious disease can be developed, which will hopefully soon reach the patients who are in dire need of more effective treatment. The clinical trial was part of a global clinical research study. FARMOVS is ideally situated on the UFS Bloemfontein Campus, close to the Universitas Academic Hospital. As a result, the largest group of patients could be enrolled for this global study.
The study ran from January to July 2021.
New treatments could significantly increase patients' quality of life
Prof Marius Coetzee, an affiliated Associate Professor in the Department of Haematology and Cell Biology at the UFS, was the principal investigator of the study. Together with his colleagues in the same department, Dr Jaco Joubert and Dr Leriska Haupt, they work on a regular basis with patients with haemophilia A. New treatments could significantly increase the quality of life for these patients, which is why they did not hesitate to participate in the clinical trial.
According to Prof Coetzee, haemophilia A is an inherited bleeding disorder that occurs in about 1 in 10 000 people, mostly males. It is caused by defects in clotting factor VIII. People with haemophilia bleed longer than others. They often bleed into their joints and muscles but can bleed anywhere and bleeds can often be life-threatening.
"The results were encouraging and will probably lead to further Phase 2 and 3 studies on the drug. For patients suffering from this disease, the results mean new options for the treatment of haemophilia," says Prof Coetzee.
FARMOVS connects patients with new treatments
FARMOVS makes research opportunities such as these possible by actively engaging with experts from the UFS. Advancing new knowledge in research is of utmost importance to FARMOVS, academic professionals, and practising healthcare professionals. Even more so for the pharmaceutical industry, which aims to find more effective treatments for life-threatening diseases.  Phase 1 studies such as these are one of multiple services that FARMOVS offers to leaders in the pharmaceutical industry. As a CRO, FARMOVS connects patients with new treatments while adhering to the strictest international safety standards during their clinical trials.
FARMOVS has conducted more than 3 000 International Council on Harmonisation-Good Clinical Practice (ICH-GCP)-compliant Phase I to III clinical trials for clients across the globe. The FARMOVS competitive advantage is a wealth of bioequivalence and Phase I experience, clinical trial expertise, and patient recruitment success through network-investigator sites managed by our Site Management Organisation (SMO) division. FARMOVS has a large clinical research facility with an on-site ISO 15189-accredited clinical laboratory and a Good Laboratory Practice (GLP)-certified bioanalytical laboratory.
According to Reinard Mc Pherson, Chief Medical Officer at FARMOVS, reports such as these highlight the incredible impact that collaborative research efforts can have not only on local patient care in the short term, but also on global patient care in the longer term.
"South Africa is well-known for its clinical research legacy over many years. With 47 years of clinical research experience, FARMOVS continues to contribute to this legacy. Our collaborative model combines external clinical expertise in challenging patient populations with FARMOVS' expertise in planning and executing clinical trial protocols to create success stories such as the one being shared today."
"Patient safety is a key focus for us at FARMOVS, with excellent teamwork producing high-quality clinical trial results. We would like to encourage interested physicians to consider collaborating with FARMOVS. FARMOVS can provide regulatory, project management, and clinical execution expertise, allowing our external physician partners to prioritise their time spent on caring for their patients."
Prof Coetzee and the team are passionate about helping patients with bleeding disorders. "What has drawn me to patients with bleeding disorders is that these conditions are not very common, and therefore the average healthcare worker may not diagnose the disease soon enough. As a result, patients suffer immensely, until they finally reach the care of a bleeding disorder treatment centre. What excites me most is identifying the specific cause of each patient's bleeding, and then developing a treatment plan," says Prof Coetzee.
The treatment of haemophilia has improved
The Adult Bleeding Disorder Clinic at Universitas Academic Hospital has prior experience in clinical research collaboration with FARMOVS, which has contributed to the success of this endeavour. The clinic was started in the 1970s and was recognised as a haemophilia treatment centre by the World Federation of Hemophilia in 2000. The clinic serves the entire Free State and Northern Cape. It has one of the largest cohorts of patients with hereditary haemorrhagic telangiectasia (HHT) in Africa, and also has expertise in Von Willebrand disease. The clinic was recently awarded a research grant from the World Federation of Hemophilia to study the use of the myWBDR phone app for collecting patient-reported outcomes for the World Bleeding Disorder Registry.
"The treatment of haemophilia has improved – from the use of fresh blood to stop bleeding, to the use of drugs that can prevent bleeding. People with haemophilia can live a normal life. We are looking forward to making new discoveries in this field during future research projects with FARMOVS and its international clients," stated Prof Coetzee.
---
To view our profile, click here
---
Related Articles:
SolarAfrica Accelerates Growth Strategy with Three Key Staff Appointments
0 comment(s)
---
AI can make a profound difference to retail decisions
0 comment(s)
---
Zutari Offers its Expertise for Mandatory EPC Compliance for Buildings
0 comment(s)
---
Should Companies have a Moral Voice
0 comment(s)
---
Theranostics in the Fight Against Cancer
0 comment(s)
---