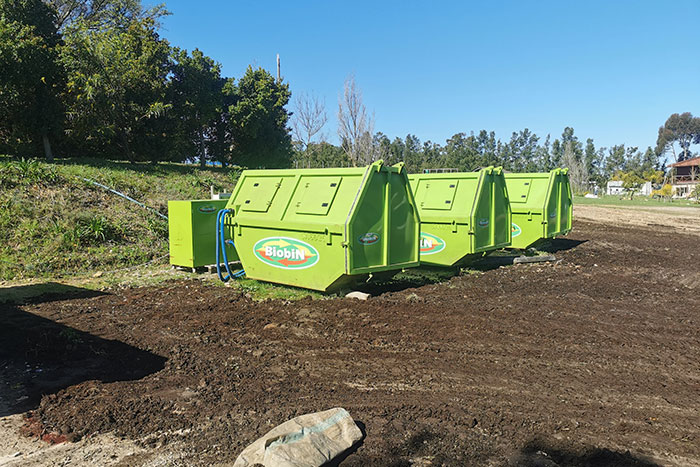 There has been a lot of attention placed on commercial sectors to improve how businesses manage waste to divert waste from landfill and create a circular economy. However, while the industry moves in the right direction, the residential and property sectors should follow suit.
BiobiN South Africa talks about why every housing estate should have on-site composting units for food and organic waste:
Giving residents the option to compost
With heightened consumer awareness towards sustainability, people are looking closely at their lifestyles to identify ways in which they can reduce their environmental footprint. A large part of this is how to manage waste at home. More households are separating their waste so that less is sent to landfill. Giving residents the option to bring organic waste (food and garden waste) to an on-site composting unit will encourage them to keep their organic waste separate in their homes.
People are looking for ways to improve their waste management habits at home and will be highly encouraged if their estate body corporate supports them with a nearby composting unit. 
Reduce waste levies
This brings us to the next benefit of having an on-site composting unit, cost savings. We have seen local and provincial municipalities around South Africa propose additional levies for exceeding general waste volumes. For example, the City of Johannesburg proposed the implementation of an additional waste collection tariff for general waste above a weekly weight of 6kgs. 
Organic waste is categorised under 'general waste' however it can be kept separate from the general waste stream by processing it in a composting unit. By keeping organic waste separate, estates may be able to avoid additional tariffs for exceeding a specified general waste weight.
Supporting residential landscaping
With many upper market estates boasting lush gardens and green areas, a constant supply of organic compost will come in handy. Compost not only provides gardens with a rich source of nutrients but also helps to improve the water retention of soil. Having a water-wise garden is crucial, especially during water scares times like we have experienced in the past.
To find out more about BiobiN South Africa and how our composting units can benefit a housing estate or residential area, visit: www.biobin.co.za
---
To view our profile, click here
---
Related Articles:
SolarAfrica Accelerates Growth Strategy with Three Key Staff Appointments
0 comment(s)
---
AI can make a profound difference to retail decisions
0 comment(s)
---
Zutari Offers its Expertise for Mandatory EPC Compliance for Buildings
0 comment(s)
---
Should Companies have a Moral Voice
0 comment(s)
---
Theranostics in the Fight Against Cancer
0 comment(s)
---