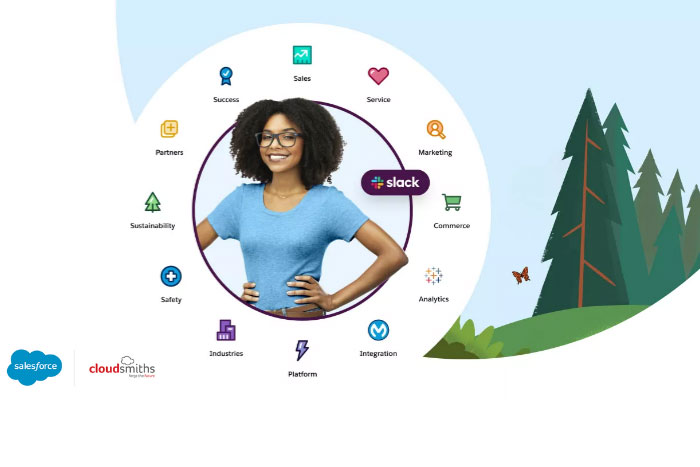 Learn how Customer 360 uses the full power of Salesforce to exceed customer expectations
At CloudSmiths, we've seen a dramatic shift in customer expectations during the pandemic. Even in a post-COVID/COVID-safe world, people still want to continue the digital conveniences that are helping us all get through this difficult time. On top of this, the end of cookies and increased privacy concerns have made first-party data critical for marketing efforts. This has forced many companies to rethink their customer relationship management (CRM) strategy.
We observe many retailers struggling to balance reduced staffing and the need for many more employees to work remotely with increased requests from customers to get instant resolutions for issues like returns, exchanges, and refunds. Working alongside the many companies we partner with, we are progressing on areas of growth in buying processes, brand loyalty, and self-service support for customers. There is a universal desire for hyper-personalization of the customer journey across all touchpoints, including in-store and online channels. The solution in these cases, and many others, is Customer 360 from Salesforce.
As CloudSmiths CEO Jason Timm points out, "South African banking legislation is extremely progressive; we've been at the forefront of some of the most innovative banking applications in the world. Early adoption of Salesforce has been a great opportunity to move these organizations forward." CloudSmiths recognizes that this is an opportunity to help our clients get into a digital, forward-facing position, considering their team is asked to implement Experience Cloud more than any other product.
Customer 360 unites all your teams—marketing, sales, commerce, service, and IT—on one integrated platform with a single view of your customer, helping you grow relationships with your customers and your employees.
Your teams can access the information they need to do their best work. This unified access increases collaboration and alignment among everyone, which leads to more connected, personalized experiences for your customers and helps you build stronger relationships with them. It also results in more satisfied employees, freed from repetitive or manual tasks to focus on doing their best and most rewarding work.
We understand that such solutions are not always simple or straightforward — they require a roadmap and a specific, individualized journey. However, having the right partnership with an experienced organization like CloudSmiths, the journey is navigable. We offer deep industry knowledge of the unique challenges to a successful digital transformation, and we know how much success can meet customer needs and grow business exponentially. The most remarkable thing about connecting business to digitization for Jason is the speed in opening up new channels.
"One of the interesting observations we've made in the telco space," Jason said, "is that there has been a big move from wholesale selling fibre to retail selling fibre. An individual might exist on more than one side of an organization, represented as different personas. This has been important for us when implementing Customer 360."
How Customer 360 solves today's challenges
CloudSmiths uses Customer 360 to create an integrated platform to foster better relationships with customers. The race to adapt to meet customers where they shop creates an opportunity to help our clients access tools to reach customers through social media and online marketplaces and organize them with a CRM. Jason noted, "Customers can make smarter buying decisions, and they can help their clients better in terms of what they buy. Typically, when customers engage in longer-term arrangements, they want flexibility in the way they are working. And this is an example of how we can serve up better purchasing opportunities to customers using Experience Cloud, CPQ, and Sales Cloud."
Consulting on strategy constitutes the first stage of our partnership with clients, and from there, we construct the business requirements for a digital transformation. Then we generate a Salesforce implementation and integration roadmap. Throughout the clients' journey, we ensure they're getting the most out of Customer 360, crafting multi-cloud solutions to meet industry challenges.
As more businesses shift to launching online stores quickly, we have developed industry accelerators to support a rapid digital transformation at an affordable rate. Our years of learning in the telco, retail banking, and consumer goods industries, coupled with our record of over ten years of implementations as a top-level partner and Navigator Expert with Salesforce, fuel our solutions to help businesses achieve their goals and minimize risks. With Customer 360 solutions, we help our clients reach their customers faster, open revenue channels faster, and leverage data in ways they never imagined.
"Businesses want to be able to roll out a methodology that's evolutionary. To grow as businesses grow and adapt as businesses adapt. We are partnering with, not just acquiring, customers." Jason said.
By keeping your team connected on a single, scalable platform, you'll be able to make real improvements in every phase of your customer's journey. Marketing becomes more personal with access to valuable customer data so you can engage with them across multiple channels with customized messages. Following up on sales leads becomes faster and easier with tools that help you manage information, automate processes, and gain insights from real-time analytics. Ecommerce becomes more effective as you unify data, personalize interactions, and grow revenue across every channel.
Here are some of the most common ways a Customer 360 approach helps our clients achieve their goals:
Customer 360 provides a customer-centric platform with unified data and visibility on all channels, so customers get the hyper-personalization. This leads to long-term loyalty and higher customer acquisition, average order value, and customer lifetime value.
Customer 360 provides an integrated system, allowing for collaboration and innovation. As a result, internal teams will achieve more operational efficiency and higher productivity with streamlined, automated processes and better access to holistic customer data.
Customer 360 is flexible and scalable. We can map out a flexible framework to implement Customer 360 at a rate our clients are comfortable with, whether they want to go all-in right away or build it out more slowly.
What this means for our clients (and you)
Few would argue about the importance of effective CRM in today's marketplace. Some companies see it as a challenge, as they struggle to keep up with customer expectations. But those companies using Customer 360 are discovering new opportunities in CRM, forming stronger relationships with their customers than ever before to drive revenue and growth.
Jason emphasizes that "we have an incredible amount of customer case studies and success stories. It's important to hear from people who have used it themselves. Salesforce has an incredible ability to acquire solutions that just make sense for our customers. Things like Slack, CPQ – it's an ability to bring features to our customers that they don't even know they need."
Salesforce and CloudSmiths help companies be there for their customers at every interaction.
CloudSmiths is a Multi-Award Winning Salesforce Partner. We believe in the power of technology to help you get closer to your customers. As a Salesforce partner we deliver solutions that transform sales, marketing, commerce and customer service. Our unique approach fuses business strategy, Salesforce expertise and innovation to help you achieve digital transformation success. Having completed over 350 CRM projects, makes us the most experienced Salesforce Partner in Africa.
---
To view our profile, click here
---
Related Articles:
SolarAfrica Accelerates Growth Strategy with Three Key Staff Appointments
0 comment(s)
---
AI can make a profound difference to retail decisions
0 comment(s)
---
Zutari Offers its Expertise for Mandatory EPC Compliance for Buildings
0 comment(s)
---
Should Companies have a Moral Voice
0 comment(s)
---
Theranostics in the Fight Against Cancer
0 comment(s)
---