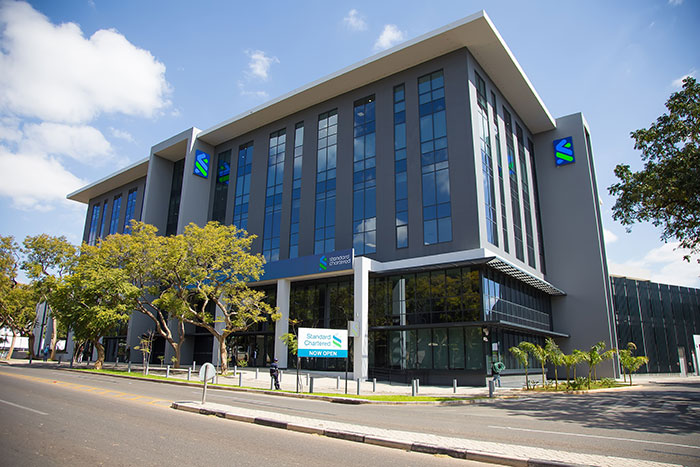 Premier African investment company, Novare Holdings (Pty) Ltd (Novare), has recently completed a world-class development under its Novare Equity Partners division, for Standard Chartered Bank in Lusaka, Zambia.
The official opening of Standard Chartered House took place on 7 April 2022, and Zambia's President Hakainde Hichilema, officiated the event as well as commended it for being the first office building in Zambia to receive an EDGE (Excellence in Design for Greater Efficiencies) certification.
Novare Equity Partners made its first foray into Zambia with the construction of the Novare Great North Mall, which was opened in 2018. Further north in Nigeria, in 2016 the real estate developer opened Novare Lekki Mall, located at Sangotedo along the Lekki Expressway, in close proximity to central Lagos and Victoria Island. Extending over 22,000m2 (GLA), it was crowned the largest mall in Lagos at the time. These are just three examples of Novare's impressive footprint across Africa.
While Standard Chartered Bank is Zambia's oldest bank, it has kept abreast with innovation and has the ambition to become the world's most sustainable and responsible bank. Standard Chartered House delivers on this mission.
With a total gross building area (GBA) of over 24 000m2, Standard Chartered House is a P Grade building, which is higher than a AAA Grade. Situated in the hub for top-tier businesses in central Lusaka, it boasts an on-site branch designed at the cutting-edge of technology. Additional office spaces are available to other tenants and the building is near government institutions, as well as convenient shopping and dining options.
Green Building Certification
Novare and Standard Chartered share the vision of impact and sustainability, which is a commitment to generating positive and measurable social and environmental outcomes, alongside sound financial returns. This ethos informs the overall approach of Novare Holdings to its investments, developments and operations.
The pursuit of an EDGE certification was a joint vision from the very onset of the project, lending credibility to the Novare philosophy to build green, in order to reduce consumption of natural resources and the environmental impact of their buildings, while also lowering operational costs and boosting property values. EDGE is a green-building rating system for residential and commercial buildings in emerging markets. It was created by the International Finance Corporation (IFC), a member of the World Bank Group. Certification demands a minimum projected reduction of 20% in energy use, water use, and embodied energy in materials as benchmarked against a standard local building.
Not only is this the first office building in Zambia to achieve this remarkable feat, but it also exceeded expectations by ultimately achieving 50% energy savings, 55% water savings, and a reduction of 34% in embodied energy in materials.
In so doing, the building also aligns with the international energy objectives as stipulated by the United Nations (UN) 2030 Sustainable Development Goal 7: Affordable and clean energy. This was all accomplished during COVID-19 lockdowns with supply chain challenges, and a league of on-site transmission interventions.
Leading-Edge Technologies
Standard Chartered House features a world-class building management system (BMS) that links high-level digital ICT infrastructure, efficient heating, ventilation, and air conditioning (HVAC) systems, and LED lights with occupancy sensors. In addition, it has a seamless integrated backup power system including photovoltaics (PV) and robust protection systems for uninterrupted power supply (UPS). All these technologies combine to deliver optimal banking and operational performance at all times, for all tenants.
The development also enjoys a host of security and access control features that were factored into the design phase. These include a fully computerised security system, barrier systems for all entry points, and an extensive CCTV network, which covers the entire building.
Socio-Economic Impact
It is Novare's belief that an in-depth consideration of the environmental, social and governance (ESG) risks and opportunities associated with the property development sector in sub-Saharan Africa, is critical for the long-term success of its investments. Novare recognises that properties are a key driver for socio-economic development, community engagement, and social upliftment. The group takes the view that the properties that are being developed, will become enablers for other businesses to develop, grow, and thrive.
To this end, the Novare development teams are mindful of the fact that the jobs and economic activity created through the work of the group as well as its partners, are an important contributor to the local economies in which they operate. For this reason, the group purposefully set out to support local contractors, suppliers, products, and labour over the course of the project.
In the process, the group played a key role in developing various supply chains, building skills and capacity, creating and supporting new businesses, which will remain robust through environmental and economic shifts. All whilst being fully committed to safe working conditions and employee wellbeing.
As an example of supplier development, Novare partnered with Velos Enterprises, a medium-sized property development, construction, and civil engineering company with its roots in Zambia since 1975. Over the past four years, through this partnership, Velos has been empowered to take their business into ambitious new territory. The projects expanded their skills, service and product offering, their health and safety controls, and their technical expertise. Velos is now able to deliver EDGE-compliant developments – a first for a Zambian construction company.
In every way, Standard Chartered House is a development of which both Novare and its Zambian partners can be truly proud. Completing a highly technical and demanding construction project like this, during a pandemic, is undoubtably a remarkable achievement.
---
To view our profile, click here
---
Related Articles:
SolarAfrica Accelerates Growth Strategy with Three Key Staff Appointments
0 comment(s)
---
AI can make a profound difference to retail decisions
0 comment(s)
---
Zutari Offers its Expertise for Mandatory EPC Compliance for Buildings
0 comment(s)
---
Should Companies have a Moral Voice
0 comment(s)
---
Theranostics in the Fight Against Cancer
0 comment(s)
---