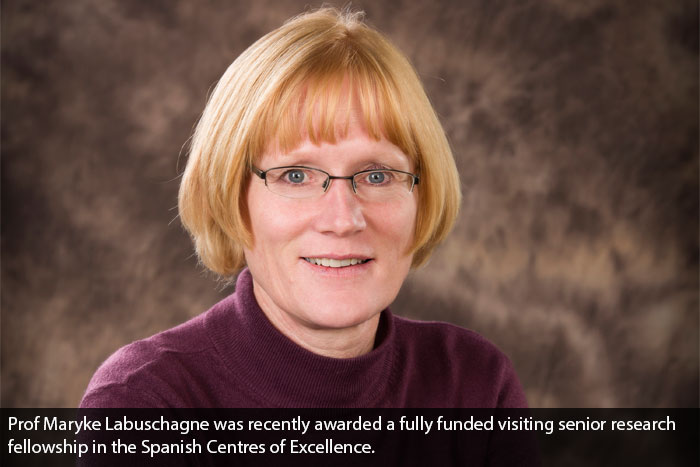 Africa, North America, and now also Europe. With research in plant breeding, Prof Maryke Labuschagne is working on at least three continents to make an impact, contributing to food security in Africa under changing climate conditions that are causing increasing occurrence of heat and drought stress.
"We have to breed crops that are climate-change resilient, and which also have good nutritional value under the adverse production conditions experienced by small-scale farmers in Africa," she states.
Prof Labuschagne, Professor in Plant Breeding and holder of the SARChI Research Chair in Disease Resistance and Quality in Field Crops at the University of the Free State (UFS), was recently awarded a fully funded visiting senior research fellowship in the Spanish Centres of Excellence. From 1 June this year, she will spend six months in Cordoba, Spain, at the Institute for Sustainable Agriculture, doing research on legume and wheat breeding for disease resistance and quality.
Promote the leadership of African women
The fellowship is part of the Science by Women programme, a UNESCO initiative that aims to promote the leadership of African women in science. As stated on the UNESCO website, the main goal of this programme is to enable African women scientists to tackle the great challenges faced by Africa through research on, among others, sustainable agriculture, food security, and climate change. The programme would also like to see African women playing a leading role in the transition of Africa to a knowledge-based and innovation-led economy through research that can be transferred to products, processes, services, and technologies that have an impact on people's lives.
The research she will be conducting at the Institute for Sustainable Agriculture is related to the SARChI Chair research that she has been leading over the past six years. With her work in the research chair, she is producing research on the breeding of cereal crops towards improved quality and nutritional value for processing and consumption. The chair is also involved in the training of PhD and MSc students from all over Africa and South Africa.
In Spain, she will be working on soybean and bean phenotyping, genotyping, and disease resistance screening, and will be physically involved in all aspects of the research. Prof Labuschagne states that she will, however, also be learning new skills and publishing research results with her host institution.
As one of the selected research fellows, she will receive training in various aspects of leadership and research management. "We will also participate in a conference on Science Innovation in Africa that is scheduled to take place in Madrid in July," says Prof Labuschagne.
Work on the African continent
During the six-month period, Prof Labuschagne will also be involved in a wheat quality project with the Department of Genetics at the University of Córdoba, with which she has been collaborating for many years. "In this project, we are looking at the influence of heat and drought stress conditions on bread and durum wheat gluten proteins, and how this influences end-product quality," she says.
Besides her work in Europe, Prof Labuschagne has also done much work on the African continent over the years. "We are currently doing collaborative research with mainly the Consortium of International Agricultural Research centres (CGIAR) as well as the regional research centres, working on the genetic improvement of staple crops such as maize, sorghum, legumes, and cassava."
"We also work with the International Maize and Wheat Improvement Centre (CIMMYT) in Zimbabwe, Kenya, and Ethiopia on maize research, and with CIMMYT Mexico on wheat. Moreover, research is also being conducted in cooperation with the International Institute for Tropical Agriculture (IITA) in Nigeria on cassava and cowpea, and with IITA in Zambia on cassava. At the Ethiopian Institute of Agricultural Research, we are doing work on sorghum," she says.
Prof Labuschagne is also supervising PhD students from various countries working on different crops, including cowpea in Ghana, sorghum and maize in Ethiopia, cassava in Zambia, and maize in Zimbabwe and Kenya.
---
To view our profile, click here
---
Related Articles:
WORLD ENVIRONMENT DAY - Are you making this mistake in your home?
0 comment(s)
---
Henley Business School is top in Southern Africa for Executive Education
0 comment(s)
---
UFS Research Impacts Food Security Across Borders
0 comment(s)
---
Medicinal Mushrooms
0 comment(s)
---
CloudSmiths Proudly Announces the Launch of their Salesforce Field Service Centre of Excellence in South Africa
0 comment(s)
---