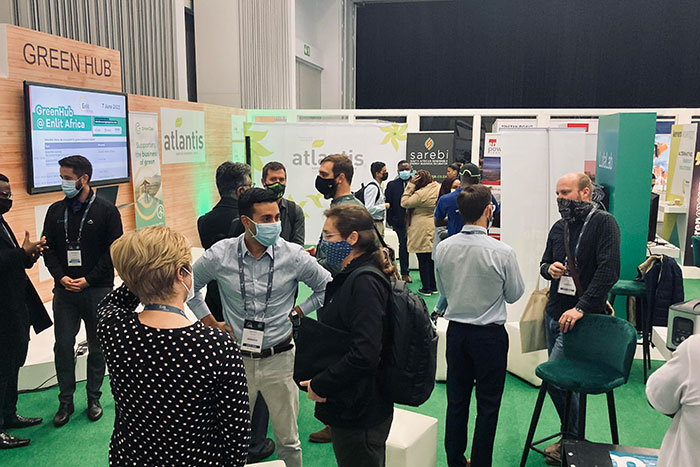 GreenCape's 2022 green economy market intelligence reports available online
The 2022 editions of GreenCape's annual green economy market intelligence reports (MIRs) are available to download at no cost from https://www.green-cape.co.za/market-intelligence/.
The reports were officially launched on 7 June by Western Cape Minister of Finance and Economic Opportunities, Minister Mireille Wenger, and Western Cape Minister of Agriculture, Ivan Meyer, during an event hosted at Enlit Africa.
The MIRs highlight current green economy investment opportunities in the Western Cape, also providing a national context. They are developed in partnership with the Western Cape Government Department of Economic Development and Tourism, The Western Cape Government Department of Agriculture, and the City of Cape's Town Department of Enterprise and Investment.
"The Western Cape is proud to be positioned as one of Africa's top green economy investment destinations. Through our strong green economy ecosystem partnerships, we are able to support investors who want to establish and grow their businesses here. We are proud to support GreenCape and the production of these impressive annual Market Intelligence Reports, which set out the many exciting opportunities for investment and job creation, driven by the development of the green economy," said Minister Mireille Wenger.
The MIRs, written for each sector highlighted below, provide an overview of the market within a sector, including key developments and achievements, the key players, legislation and regulation, market opportunities and challenges, as well as funding opportunities.
Electric vehicles 2022 MIR
The emerging electric vehicles market currently represents a small share of the South African automotive industry, but presents substantial opportunities for businesses and investors active and interested in the sector.
Investment opportunities highlighted in the 2022 MIR: Local manufacturing and electrification of public transport, Lithium-Ion battery production, local manufacturing of passenger vehicles, and electric vehicle use in construction, retail, and underground mining.
Energy services 2022 MIR
The term energy services (ES) is used to describe three interrelated energy market segments in the South African energy space, namely small scale embedded generation (SSEG) (encompassing system sizes <1 MWp); energy storage; and energy efficiency (EE). Rising electricity prices, energy insecurity, dropping technology costs, supportive energy policies, and incentives prompt consumers to explore alternative energy options driving the growth of the ES market in SA and creating a thriving value chain.
Investment opportunities highlighted in the 2022 MIR: Solar installations (C&I / Agri, <1 MWp, own use); behind-the-meter battery storage; smart metering coupled with an ESCO model (Commercial & Industrial / Agriculture); and cooling-as-a-service (Commercial & Industrial / Agriculture).
Large-scale renewable energy 2022 MIR
The South African large-scale renewable energy capacity accounts for approximately 10% of the wholesale/public nominal capacity. The industry is showing growth and potential with just over 5 GW of large-scale connected and operational projects.
Investment opportunities highlighted in the 2022 MIR: Since the publication of the 2021 MIR, there have been several important developments in the sector and the national government's Renewable Energy Independent Power Producers Procurement Programme (REIPPPP). These developments have led to opportunities connected to public procurement, private procurement, local manufacturing of renewable energy components and systems, and electrolysis using renewable electricity for the production of green hydrogen.
Water 2022 MIR
This year's Water MIR draws on market trends and presents emerging longer-term investment and business opportunities to improve water security, resilience, and universal access to water
and wastewater (W&WW) services as key enablers of sustainable economic growth, and social progress.
Investment opportunities highlighted in the 2022 MIR: Public sector water and wastewater infrastructure (new W&WW infrastructure, renewal, and refurbishment), and smart systems for water and wastewater management.
Sustainable Agriculture 2022 MIR
South African national and provincial governments continue to place the growth of South Africa's agriculture sector at the centre of their economic and job growth strategies and are focussed on ensuring that growth is inclusive.
Investment opportunities highlighted in the 2022 MIR: Technologies relating to sustainable agriculture in the context of energy efficiency, renewable energy, regenerative agriculture, smart farming, controlled environment agriculture and electric machinery.
Waste 2022 MIR
The South African waste management and beneficiation landscape has been bolstered with the publication of South Africa's new National Waste Management Strategy (2020), as well as the implementation of several key and progressive regulatory changes. Furthermore, the City of Cape
Town is implementing its long-term Waste Sector Plan and shorter-term Integrated Waste Management Plan and will make substantial investments into material recovery, notably in recyclables and organic waste streams.
Investment opportunities highlighted in the 2022 MIR: Organics, e-waste, plastics, and municipal contracts, some of which are cross-cutting.
Through close working relationships with businesses, investors, government, and academia, GreenCape's sector desks are in a unique position to collect, create, and disseminate free market intelligence on the green economy. Get in touch to explore these investment opportunities in greater depth.
---
To view our profile, click here
---
Related Articles:
SA companies now able to go 100% off-grid, pay less for power with holistic energy solution
0 comment(s)
---
Fresh from the farm – UFS Experimental Farm delivers research with social impact
0 comment(s)
---
Wellness Trends We're Watching
0 comment(s)
---
Liberty Two Degrees sees continued positive momentum
0 comment(s)
---
Liberty Two Degrees advocates for mental health support within its retail spaces
0 comment(s)
---