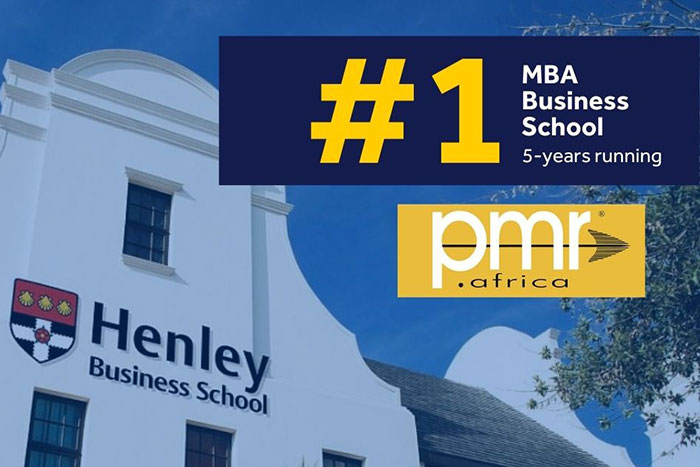 HENLEY Business School Africa has been awarded a diamond arrow by PMR.Africa – its fifth in as many years – as the best MBA business school in the country according to corporate South Africa. The awards, conceptualised and run by research consultancy firm PMR.Africa, are designed to recognise and showcase excellence.
"This award is particularly meaningful to us," explains Henley Africa dean and director Jon Foster-Pedley, "because it is based on a series of surveys—electronic and telephonic—across a wide range of C-suite leaders, managers and line managers in South Africa on their perception of the kind of graduates we produce and the worth of the MBA programme we offer."
The list of questions that the corporate respondents have to answer about Henley Africa's programmes cover 20 different categories: academic knowledge, the practical application of the lessons to the workplace; emotional intelligence; ethics and corporate governance; marketing, financial and strategic skills; and leadership. The responses are rated from one to 10, with 0 being poor and 10 being outstanding. Henley Business School Africa was rated as the best of all the business schools surveyed, with an aggregate score of 8.1.
"It's an incredibly important affirmation of the work we have done and the journey we have travelled, because the respondents are key decision makers in the very system that we are serving and trying to equip to evolve. It is often they who choose where to send their staff to have their potential unlocked, so it is very important to establish where they feel they are getting the best value for their investment. For the fifth year in a row, the answer has been unequivocal: Henley Africa," says Foster-Pedley.
He adds that the award is particularly timely given the herculean efforts that Henley's faculty and staff have had to put in over the past two and half years; moving the business school to remote learning and designing new short courses to address new needs in the face of the pandemic. More recently, the school has also re-engineered its campuses in Johannesburg and Cape Town for a safe and sanitary return as the health crisis eases, which has for example, included investing in imported state-of-the-art air purification systems.
"We didn't just innovate once, we've been innovating throughout, and we expect to go on innovating," says Foster-Pedley. "We need to constantly be developing new methodologies to teach, new tools to give to our graduates to cope with the ambiguity and volatility of the 'new normal' and implementing new ways of working – and living – together."
The PMR accolade, he says, is as much an honour as it is a responsibility.
"We are entrusted by companies with developing their future leaders. We are not daunted by the challenge; we are grateful to shoulder both the responsibility and the expectation. This latest arrow inspires us to do more. We are determined to continue to innovate in our mission to build the people who build the businesses that build Africa and to motivate the leaders of tomorrow to take on this commitment, because that is what this country and this continent really need. The engine of prosperity is business. Good businesses – driven by capable, confident, and proactive people, that provide value to other businesses and society – are what will build opportunity and grow economies."
---
To view our profile, click here
---
Related Articles:
SA companies now able to go 100% off-grid, pay less for power with holistic energy solution
0 comment(s)
---
Fresh from the farm – UFS Experimental Farm delivers research with social impact
0 comment(s)
---
Wellness Trends We're Watching
0 comment(s)
---
Liberty Two Degrees sees continued positive momentum
0 comment(s)
---
Liberty Two Degrees advocates for mental health support within its retail spaces
0 comment(s)
---