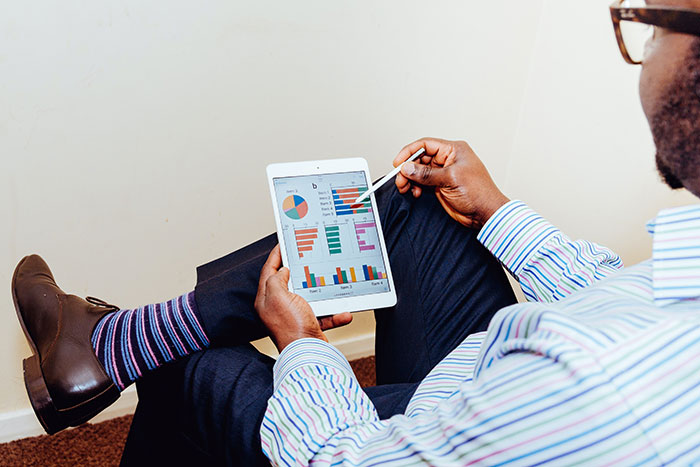 Revenue from continuing operations increased by 30% to R21.4 billion
Profit after tax from continuing operations rose by 80% to R1.1 billion
HEPS from continuing operations up 86% to 672 cents
Strong cash generation from operations of R1.94 billion
Umongo Petroleum divestment supporting lower complexity and enhanced returns
Shareholder distribution of R1.35 billion comprising an ordinary and special dividend
Focused on driving growth opportunities, safety and sustainability across the Group
Omnia Holdings Limited ("Omnia"), a JSE-listed diversified chemicals Group, today published its annual results for the year ended 31 March 2022. The results reflect an exceptional operating performance enhanced by diligent strategic execution, a higher commodity price environment and favourable conditions for both the Agriculture and Mining divisions. Group revenue from continuing operations for the period increased 30% to R21.4 billion and operating profit from continuing operations increased by 40% to R1.6 billion. Omnia's earnings before interest, tax, depreciation, and amortisation (EBITDA) from continuing operations and excluding impairments, increased 21% to R2.4 billion, while headline earnings per share (HEPS) from continuing operations rose 86% to 672 cents.
Omnia's CEO, Seelan Gobalsamy, commented: "Our teams' diligent execution of our strategy delivered an exceptional operating performance and placed the business in a solid financial position. Our renewed and integrated operating model, manufacturing excellence and optimised supply chain enabled increased agility and responsiveness to achieve increased sales volumes, whilst disciplined cost and working capital management further supported cash generation and enhanced profitability in a challenging macroeconomic environment."
Omnia bolstered its competitive positioning through focused customer relationship management which was supported by the implementation of its new integrated operating model. Supply chain optimisation led to improved planning and greater flexibility which enabled timeous procurement of raw materials and reliable supply to customers. Supplier diversification and shortening of the net working capital cycle helped manage the risk of volatile commodity markets, whilst integrated manufacturing capabilities drove significant efficiencies and improved operating margins.
In keeping with its disciplined approach to capital allocation, Omnia divested from Umongo Petroleum for a cash consideration of approximately R1 billion. The proceeds from the disposal, together with improved operating cash generation across the Group, resulted in a cash position of R2.4 billion at year end. Notwithstanding significantly higher commodity prices, net working capital from continuing operations increased by just 18% to R3.3 billion, this was supported by focused efforts to manage the working capital cycle and the introduction of supply chain finance.
After considering the financial position of the Group in the context of prevailing macroeconomic conditions, the Board declared a total shareholder distribution of R1.35 billion, comprising an ordinary dividend of 275 cents per share and a special dividend of 525 cents per share.
"Ongoing delivery against clear strategic objectives saw us strengthening our financial position, enhancing operating asset performance, improving returns on capital and investing for the future. We are steadfast on continuing to drive meaningful value creation for all stakeholders with our commitment to operate sustainably to deliver a positive impact for communities in which we operate," said Gobalsamy.
While notable improvements in sustainability and safety measures were achieved during the year, we are saddened by the tragic events of two work-related fatalities. We express our deepest condolences to the families and loved ones. Safety remains a key priority, and the Group will continue to drive the appropriate culture to support improvements across the business in line with its pledge to achieve zero harm.
Reducing the Group's environmental footprint remains an important focus. Key projects nearing completion include the Sasolburg solar project which will substitute approximately 13% of the plant's energy requirements and a reverse osmosis plant to increase water recycling, decrease our consumption of municipal water and support improved effluent management.
Omnia is building on its existing suite of sustainable products, technologies and services with research and development efforts centred on trialling biological and organic products for registration in South Africa and globally, as well as AgTech innovations and alternative low CO2 emulsion technology.
Looking ahead, despite the volatile macroeconomic environment which is anticipated to persist for the foreseeable future, Omnia is well-positioned to deliver further value from its core business by supporting its customers in the primary sectors in which they operate. The Group will continue to explore organic and inorganic growth opportunities in key identified markets whilst targeting capital light partnerships to reduce risk and complement the core business and its capabilities.
"Reflecting on our journey to date and the substantial transition that Omnia has undergone as part of our strategy to stabilise, fix and grow the business, we are confident that we have built a robust foundation which places us in the best position to navigate headwinds, benefit from the compelling growth opportunities, and continue to honour our commitments to stakeholders," concluded Gobalsamy.
SEGMENTAL REVIEW
Agriculture
The Agriculture division, comprising Agriculture RSA (including manufacturing) and Agriculture International, delivered a 44% increase in net revenue from continuing operations excluding Zimbabwe to R11.2 billion and a more than doubling in operating profit from continuing operations excluding Zimbabwe to R1.2 billion. Favourable planting conditions and higher agriculture commodity prices supported increased sales volumes.
In RSA, risk of supply was well managed to ensure the division was in a strong position to meet sudden early demand, whilst a focus on manufacturing quality products and optimisation enabled competitive pricing to customers. The benefits of Omnia's diversified portfolio were demonstrated by sustained increased offtake from the Mining division, which in combination with higher trade sales into the mining sector, resulted in increased plant utilisation, improving margin and profitability.
Local demand for biostimulants in Australia was stable, however COVID-19 logistics constraints impacted export sales. Sales into new territories in Brazil boosted revenues and margin growth from that region, whilst the SADC region benefitted from a focused market approach and a broader offering. Distribution and administration costs as well as a fixed price contract in Zambia did, however, place pressure on margins in the international business.
Customers are expected to adopt a cautious approach to purchase commitments for the coming season and production plans will be amended in line with anticipated product demand to manage the working capital cycle. Given its international exposure, nitrophosphate product capabilities and integrated operating and supply chain model, Omnia is well-positioned to mitigate falling fertilizer commodity prices. Efforts to enhance plant utilisation and optimisation remain a focus whilst further investments into research and development should create new product opportunities.
Consolidation and growth initiatives that have gained momentum will be prioritised across the SADC region. Demand for biological products and technology solutions has been stimulated by technological advancements in the agriculture sector and Omnia looks to capitalise on these developments. Expanding Omnia's global biostimulant footprint remains a key area of focus. New distribution channels, strategic international partnerships and expansion of the humates production capacity in Australia serve to support the in-country presence established in the US and EU markets.
Mining
Omnia services the mining industry through BME and Protea Mining Chemicals. The division delivered a 29% increase in net revenue to R6.7 billion, benefitting from higher ammonia prices and increased sales volumes through the mobilisation of large customer contracts, whilst a renewed focus on operating efficiencies drove an operating profit increase of 79% to R514 million.
Mining RSA's robust performance was achieved despite a highly competitive environment and lower mining production due to inclement weather in the second half of the year. The RSA domestic performance was strengthened by operational efficiencies, market expansion in the surface and underground segments and gains from large customer contracts.
Mining production in Indonesia and SADC was also disrupted by inclement weather. A large customer contract was retained in Zambia which contributed to the increase in volumes while sustainable localised business partnership models were implemented in the rest of SADC. A three-year contract extension was secured with the division's largest customer in West Africa and investments in new infrastructure will support further expansion in the region. In Canada, trials of technology and explosives systems in the underground market were successfully completed and the transitioning for a major surface contract was commenced.
Protea Mining Chemicals ("PMC") strong performance was supported by robust growth in the battery metals and PGM markets, which reinforced demand for specialised metallurgical chemicals and services. Increased sales of high-performance products and solutions in export markets, demonstrated sound supply chain management and security of supply for customers.
Current higher metal commodity prices bode well for mining production globally while some countries in SADC have seen a revitalisation of their mining activities resulting in strong demand. Nitrogen is a key input for mining explosives and customers have been moving towards security of supply, which Omnia is recognised for.
Growth in Indonesia remains a focus and the Canadian team is working hard to secure longer-term customer contracts. The new AXXIS Titanium and Silver products have been well received by the Australian market where new opportunities are being evaluated. The division will continue to grow business through its world-class electronic detonators and emulsions whilst developing technology that contributes to customers' sustainability and ESG targets.
Chemicals
The Chemicals division comprises Protea Chemicals and the discontinued operation, Umongo Petroleum. Net revenue from continuing operations increased 2% to R3 billion and operating profit from continuing operations increased 41% to R142 million. The repositioning of the Chemicals business in the first half of the year to focus on key strategic sectors and customer service, saw the business deliver a substantially improved performance. This was underpinned by the strength of Protea Chemicals' supply chain capabilities, distribution footprint and ongoing transition to specialty chemicals and associated services.
Protea Chemicals' performance was enhanced by increased sales in the in the Food and Beverage sub-sector of Life Sciences and a strong performance from Watercare Solutions due to increased demand for coagulants on the back of the heavy rains across South Africa. Higher margins were supported by an improved specialty-functional chemical product mix and disciplined cost containment which improved operational efficiencies in the second half. Umongo was sold effective 31 January 2022 and delivered net revenue of R1.3 billion for the ten months of the year.
After its restructure and repositioning, Protea Chemicals is focused on specialty chemical products and solutions to deliver value for its customers across key sectors which combined with a reliable and cost-effective supply chain, is anticipated to unlock growth into the future. The development of green, environmentally friendly and alternative chemistries and technologies across key sectors is gaining momentum with meaningful business growth anticipated in these areas in the current financial year. Collaboration with partners in the hydrogen fuel cell market in the region is ongoing and HydroPlus® continues to be produced for this purpose.
---
To view our profile, click here
---
Related Articles:
SA companies now able to go 100% off-grid, pay less for power with holistic energy solution
0 comment(s)
---
Fresh from the farm – UFS Experimental Farm delivers research with social impact
0 comment(s)
---
Wellness Trends We're Watching
0 comment(s)
---
Liberty Two Degrees sees continued positive momentum
0 comment(s)
---
Liberty Two Degrees advocates for mental health support within its retail spaces
0 comment(s)
---