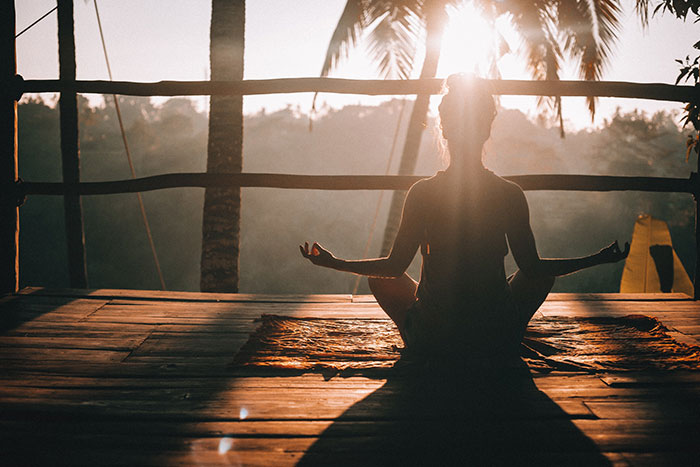 As biometric data becomes increasingly useful in tracking our health, the future of wellbeing is merging with fashion
Think smart jewellery that directly links to your devices, or inconspicuous glucose trackers that monitor your sugar levels without the pain of pricking. Gaining particular popularity are sleep monitors, which track heart rate and sleep quality through sleek wearable devices to accessorise our pyjamas. Low maintenance, high in demand and adaptable to the diverse range of needs, goals and plans for a healthier, hybridised future, it's no surprise that wearable tech is set to reach $64 billion by 2024.
FemTech
With a current market capitalisation of $4 billion, we are seeing women's wellness tech evolving with the times, and with our bodies. Feminine technology is enabling self-care, improving diagnosis, addressing stigmatised groups, and becoming more and more tailormade to suit a wide range of unique women's health needs. Tracker applications continue to undergo new iterations in determining the ways of women. Think menstruation, fertility and pregnancy trackers that ensure a richer understanding of and a continuous adaptation to one's own body and overall health. These trackers are enabling women to locate the patterns of their bodies, spurring a deeper sense of empowerment and responsibility.
Intimacy Redefined
Good news – intimacy is sexy again! The confines of COVID taught us to rethink our intimate relations with ourselves, our bodies and our partner(s). Intimacy has trumped sex, with an ever-expanding market of things like sensual massage oils and sex journals to enhance connection and communication. People are making the switch to clean intimate care and libido supplements, plus sex toys that have undergone a face-lift thanks to classier branding, natural ingredients and more tailored experiences. Part of this is the sex tech industry, which is predicted to reach $122 billion by 2024. Get hot this winter with intimacy apps like Ferly – designed to assist users in getting to know their bodies better – or Dipsea, which features erotic audio stories for all tastes.
Regenerative Gardening
More and more people are embracing the fact that wellness really does start from the ground up. Consumers are rallying against mass-scale agricultural practices – which use toxic, man-made chemicals that severely impact soil health – and shifting towards regenerative farming, which considers the health of both the soil and the end-consumer. Regenerative farming doesn't have to be on an agricultural scale – you can do it from home! Growing your own herbs and veggies requires nutrient-rich soil, so consider mixing it between harvests (use your hands – it's good for you). Another, easier consideration is using natural pesticides like onion and garlic spray or neem oil for your edible crops. Compost is king, so consider storing all your old peels (omitting citrus peels) in a sealed bin for later use. A lack of space isn't an excuse anymore, as vertical gardens are becoming increasingly popular.
Glucose Tracking
Did you know that an estimated 7.3 million adults ages 18 years or older have diabetes, but are still undiagnosed? Unlike type 1 diabetes, type 2 is preventable, and technology is stepping in to aid in both prevention and treatment through glucose tracking. Smart management of glucose levels is becoming easier and less invasive. A sensor can now be implanted under your skin, which links directly to your device in order for you to track and manage your glucose levels. Portable, wearable, futuristic and far more accessible than previous iterations of glucose tracking, this new technology is also rethinking affordability and addressing stigma in areas in which people are struggling with diabetes and imbalanced glucose levels and don't have the resources required to live a healthy, fruitful and sustainable life.
Ingestible Beauty
These days, it's about more than just collagen and a skin-friendly diet. An ever-increasing range of beauty-from-within solutions is becoming available, and we're so here for it. Think fulvic acid for managing inflammatory conditions like eczema and psoriasis; fruit extracts to promote vibrant and luminous skin; prebiotics and probiotics to improve skin barrier function; essential vitamins, minerals and healthy fats for everything from hydration to cell renewal; and much more. We're particularly enjoying the rise and rise of adaptogens and medicinal mushrooms for the natural beauty, with reishi, chaga, cordyceps, shiitake and tremella shown to be particularly beneficial for skin health.
Psychedelics Reimagined
Psychedelic science is enjoying a resurgence after years of misunderstanding and repression. Psilocybin – the psychoactive ingredient in magic mushrooms – is proving to be one of the most popular plant medicines of 2022, with people reporting having 'breakthrough' experiences on hero doses, and enjoying sustained focus, empathy, creativity, and calm on micro-dosing protocols. Other hallucinogens slowly (re)entering the mental health field include ketamine, which – when used in lower doses than for its original anaesthetic function – is showing promise in the treatment of depression; and MDMA, which is being used increasingly for its benefits in treating PTSD. While South Africa has a long way to go before we're freely able to experience these powerful substances in a professional therapeutic setting, we're watching this space with great anticipation for what's to come.
Gender-inclusive Products and Skinimalism
Selling beauty and personal care products based on gender is falling out of favour as a marketing tactic, for obvious reasons. Coupled with this is the rise of skinimalism, in which people are using fewer products of higher quality (and natural, eco-friendly ingredients). Powerful, multitasking active ingredients and minimal environmental impact are cornerstones of this stripped-bare skincare movement, and it's proving more and more effective in giving our skin everything it needs without layering on too many (unnecessary!) products.
Wellness Weekends
As our work lives appear to have blended with our home lives for good, it has become more important than ever to get away from our daily, utilitarian spaces. Nature weekends with a wellness twist are more important than ever – from camping with the family to spending a romantic weekend in an eco-cabin or taking a solo seaside yoga retreat. These wellness weekends don't need to break the bank – simply to provide an opportunity for us to separate ourselves from the daily routines that play out within the walls of our homes, and to remind us of what really matters in our lives.
---
To view our profile, click here
---
Related Articles:
SA companies now able to go 100% off-grid, pay less for power with holistic energy solution
0 comment(s)
---
Fresh from the farm – UFS Experimental Farm delivers research with social impact
0 comment(s)
---
Wellness Trends We're Watching
0 comment(s)
---
Liberty Two Degrees sees continued positive momentum
0 comment(s)
---
Liberty Two Degrees advocates for mental health support within its retail spaces
0 comment(s)
---