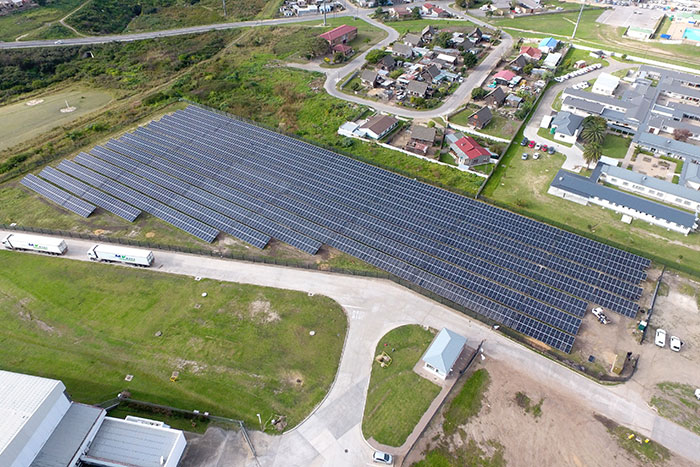 Recognising the need for a one-stop-shop for industrial and commercial businesses looking to diversify their energy mix and transition from a reliance on state-supplied power, South African (SA) energy specialist SolarAfrica has launched a landmark offering that takes clients 100% off-grid.
Having evolved from a specialist provider of rooftop solar photovoltaic (PV) systems that provides up to 30% of their clients' needs, SolarAfrica now designs bespoke, long-term energy plans for businesses seeking a solution to power security, cost savings and carbon reduction.
The company's holistic energy solutions are aimed at businesses consuming over 100kWp and will allow them to source 100% of their power from a mix of renewable energy sources such as solar PV, biogas, gas-to-power and wheeling, including battery storage and power trading options. Critically, this solution comes at zero capital investment by the client and offers energy at a lower tariff than that provided by Eskom, which has intensified load shedding in recent months.
According to the Council for Scientific and Industrial Research, 2021 surpassed 2020 as South Africa's most intensive load-shedding year to date. Load-shedding occurred for 1 169 hours, or 13% of the year, representing a 40% increase on that of 2020.
In the first six months of 2022, there has been no sign of recovery in the energy availability factor which measures how much time a fleet of power stations is able to produce electricity over a given time period.
"Energy supply and energy costs are now among the top risks for businesses in South Africa. Each SolarAfrica plan is designed to tackle these risks, with the unique energy needs of each business kept top of mind.
"Whether you require an onsite solar solution now, or want to be completely energy self-sufficient over the next five years, we take clients on a green energy journey that maps out the steps and solutions that will meet their energy sustainability goals," says SolarAfrica director Charl Alheit.
Revolutionising the power menu for SA business
SolarAfrica will now provide businesses with a unique combination of energy supply sources and services, which include:
Solar PPAs and roof rental solutions require zero capital investment and provide cost savings every month whilst reducing the carbon footprint of operations.
Biogas created from purpose-grown crops such as Vetiver and Spekboom offers a climate-friendly alternative to fossil fuels and creates valuable socio-economic and environmental benefits for our planet.
Gas-to-power can be integrated with solar PV to provide a reliable power security solution that provides additional electricity savings, enables demand reduction and allows peak shaving opportunities. When you add our biogas to the mix, it becomes a green solution too.
Battery energy storage systems provide immediate, uninterrupted power supply that keeps real-time operations live and reduces product wastage and intermittent downtime from load shedding.
Wheeling agreements allow industrial and commercial clients to source sustainable power from a solar solution that is not physically installed at their premises and at tariffs that are up to 50% cheaper than existing grid costs.
Electricity trading allows our clients to purchase cheaper, greener electricity from a bundle of renewable energy sources, with flexible contracting periods from one of the first private power trading companies in SA.
Certified renewable energy certificates accounts for a business' renewable electricity generation and certifies whether power solutions have been installed on-premise or power is sourced remotely.
Critical time to implement long-term energy plan
Despite a steady increase in the number of renewable energy projects in South Africa, and the recent launch of bid window 6 of the Renewable Energy Independent Power Producer Procurement Programme, the cost of renewable power is expected to increase in the coming years, making the need for early intervention by businesses all the more urgent.
A May 2022 report by the International Energy Agency reports that the cost of new utility-scale PV and onshore wind plants increased by up to 25% between 2020 and 2022, driven by a rise in the prices of raw materials and freight costs.
"The renewable energy market globally is bottoming out and is unlikely to become cheaper in the short to medium term, so it is better to map out an energy plan for your business as soon as possible," Alheit cautions.
Meeting decarbonisation goals
As the world moves towards reducing global carbon dioxide (CO2) emissions to net zero in the coming decades, this holistic solution supports the growing number of South African businesses that are implementing expansive operational, production-related and strategic changes with the aim of reducing their emissions and improving their carbon footprint.
It also supports the evolution of a South African energy system from a single-provider model to a more competitive domestic open market model.
"It's time for the liberalisation of South Africa's energy market and we are prepared and equipped to play a leading role in this transition," says Alheit.
This launch by SolarAfrica comes shortly after the announcement in February 2022 that its subsidiary, Enpower Trading, became the second private power trading company in South Africa to be granted a trading license by the National Energy Regulator and the first to be awarded such a licence in over 12 years.
The license enables Enpower to source competitively-priced, predominantly renewable power from multiple IPPs and small-scale generators, transport or 'wheel' this energy across the national and municipal grid networks, and sell it to customers at a cheaper rate than Eskom.
---
To view your profile, click here
---
Related Articles:
SA companies now able to go 100% off-grid, pay less for power with holistic energy solution
0 comment(s)
---
Fresh from the farm – UFS Experimental Farm delivers research with social impact
0 comment(s)
---
Wellness Trends We're Watching
0 comment(s)
---
Liberty Two Degrees sees continued positive momentum
0 comment(s)
---
Liberty Two Degrees advocates for mental health support within its retail spaces
0 comment(s)
---