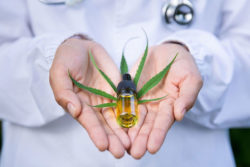 Commonly known as CBD, cannabidiol was discovered in the 1940s It's one of the 113 known cannabinoids found in the cannabis plant and constitutes up to 40% of its extract. Due to its association with marijuana – a high-THC (tetrahydrocannabinol) variety of cannabis – many believe that using CBD hemp oil will induce a 'high'.
Read More
The Rise & Rise of CBD
0 comment(s)
---
Celebrating 30 years of Success!
0 comment(s)
---
Lesedi appointed as EPCM representative for Toronto Group New Charcoal Manufacturing Plant in Wellington, Western Cape
0 comment(s)
---
Vredenburg Transport SMME Shows Adaptagility in Her Business Strategies Despite the Pandemic
0 comment(s)
---
New TSIBA Business School CEO Dr Rudi Kimmie packs a heavy punch in education development
0 comment(s)
---