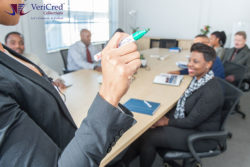 2020 Marks a year of celebration for VeriCred Collections Our dream of 30 years ago, to establish the leading debt collection company in the marketplace, became a reality. VeriCred has expanded significantly during this time. Our operations are thriving, whilst constant development in the quality and services we offer to our clients, are a priority.
Read More
Celebrating 30 years of Success!
0 comment(s)
---
Lesedi appointed as EPCM representative for Toronto Group New Charcoal Manufacturing Plant in Wellington, Western Cape
0 comment(s)
---
Vredenburg Transport SMME Shows Adaptagility in Her Business Strategies Despite the Pandemic
0 comment(s)
---
New TSIBA Business School CEO Dr Rudi Kimmie packs a heavy punch in education development
0 comment(s)
---
Why is Local No Longer Lekker?
0 comment(s)
---