About BiobiN
---
BiobiN ® is a clean and simple solution to managing food and organic waste that would otherwise end up in landfill.
The BiobiN ® – Waste Management System is a unique and innovative design which will safely remove hazardous and odourous elements from organic waste material, whilst recycling the waste into a safe, environmentally friendly and rich organic compost.
The compost produced by the BiobiN ® can be used by the community and industry in a variety of agricultural applications.
BiobiN ® is the most efficient and effective method for managing organic waste.
How does the BiobiN ® work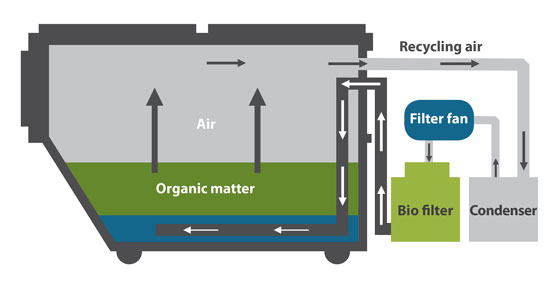 BiobiN ® uses forcefully inducted air to start the decomposing process of food and organic waste.
The food and organic waste is thoroughly mixed with carbon (woodchips and/or sawdust) and by using the patented bio filter process, the waste starts turning into compost instantly.
The condenser removes excess moisture from the system and the bio filter removes the odours.
No chemicals are needed, nor any sort of microbes, that would have been necessary with other in-vessel composting systems, making it the easiest and most cost effective on-site wet waste management system.
BiobiN ® – The Benefits
Reduces food and organic waste going into landfill sites reducing greenhouse gas emissions
Minimises odours, reduces rodents, flies, etc and kills off bacteria and pathogens
Initiates the composting process to turn food and organic waste into compost
Decreases waste collection costs and frequency
Managed process is cost effective and requires very little input from clients
BiobiN ® – Design Features
The collection system satisfies safety, health & environmental requirements
Odours are removed or significantly reduced
Fly and rodent contamination is eliminated
Pathogens and bacteria eliminated