Envisionit E-Pay
LEADERS IN JOB CREATION & SUPPLIER DEVELOPMENT
About Envisionit E-Pay
---
Envisionit was established with an ethos of Integrity, Innovation and a deep desire to invest back into SA. A purpose we live and strive for every day.
Envisionit Capital Solutions (ECS)
As the holding company, level 1 BEE rated ECS is a registered FSP category I licence holder (FSP43556).    Our main focus is on asset management, listed equity funding and private equity. The ECS subsidiaries include Envisionit E-Pay, Envisionit Deep AI, Envisionit Bursary Foundation and Envisionit Prize.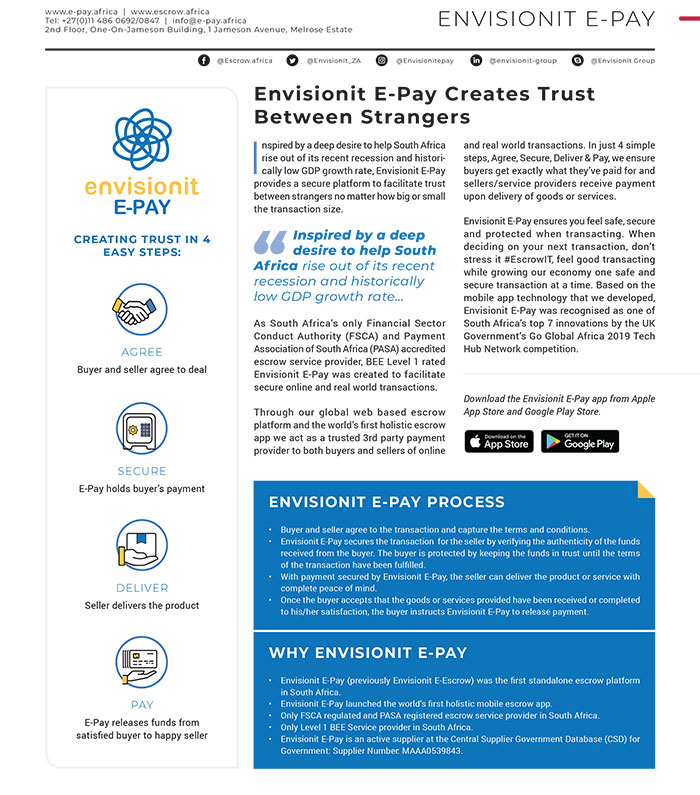 EDAI offers to the healthcare industry revolutionary technology that utilises the latest innovations to improve efficiency, accuracy, and performance of medical imaging diagnosis. EDAI's machine learning platform enhances and augments radiology readings, empowering medical professionals and allowing them to prioritise urgent cases, thus improving health service delivery. Envisionit Deep AI solution is available globally via our online offering or can be integrated with hospitals' PACS systems for a more streamlines process.
Envisionit Bursary Foundation (EBF)
The bursary foundation was born out of a love and passion for South Africa and a commitment to ensure the economic transformation of our society. We believe that education is the key that unlocks this vision.  Thus far 21 graduates have been assisted over the last 8 years, and are in a position to pay it forward.  In 2019, we have 30 students that have received funding for their tertiary studies from EBF.
The Envisionit Prize (E Prize) is an innovation initiative that aims to incentivise bright minds to create sustainable and ground-breaking solutions to an identified global challenge. The initiative is ultimately a competition that provides prizes to winners who solve the specified challenge.  The challenge aims to develop an interest in science, technology, innovation and human experiences along with inspiring the entrants to uncover the wonders and abundant opportunities present within these fields. The E Prize centres on collaboration to ensure that the outcomes of innovation are shared and experienced by all, especially those who need it the most.