About JCDecaux
---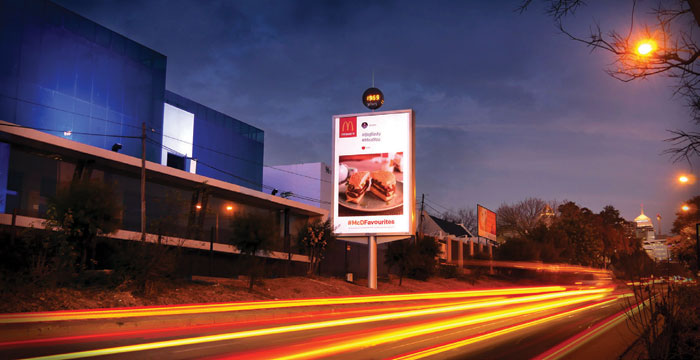 In 1964, Jean-Claude Decaux invented the advertising bus shelter. Fifty five years on, JCDecaux's success still rests on its founding economic model; providing cities and transport companies with products and services financed by advertising space.
Achieving economic growth while respecting people and the environment is at the heart of our model.
By giving local advertisers visibility, we are players in the local R36.6bn advertising market, stimulating economic growth. Royal Bafokeng Holdings, our strategic partner and 30% shareholder plays an active role in shaping the evolution of our business in Africa. Together we strive to operate as locally as possible, to be even closer to our partners, be they cities, transit authorities, or shopping malls. With a staff complement of 400 in 18 countries, only 4 are expatriates, underlining our commitment to transformation and belief in African talent. We contribute to local African economies by creating stable jobs in each country and strive to reduce inequality within and among countries.
At JCDecaux, our concern for the environment is in everything we do. We have developed several methods to limit our energy consumption. For our new street furniture and roadside installations, we are systematically using LED lighting and, on our existing stock, we are going back and replacing older technologies. We are also seeking to reduce our fuel consumption by renewing our fleets of vehicles and training our employees in eco-driving. The same goes for our street furniture; choosing materials responsibly, optimising the use of raw materials as resources during production, reducing generated waste, and reducing the amount of water that we use to clean these assets.
The environments in which our street furniture is installed require extreme rigour in terms of safety for our teams as well as the people who frequent these transit sites. From working at heights, to road safety, and power safety, it is a priority of JCDecaux to continuously improve the working conditions of our teams and ensure the safety of all parties involved.
With Sub-Saharan Africa's urban population doubling to 940 million in the next 25 years, JCDecaux is committed to making cities and human settlements more inclusive, safer, resilient and sustainable. Our investment, in partnership with governments and municipalities has unlocked pioneering technologies for citizens in Africa such as solar street lighting, automated traffic information systems, digital bus shelters, city information solutions, automated self-cleaning toilets, waste management and recycling innovations to make cities better.
For over 50 years, we have supported small towns and major urban centres all around the world. Through our understanding of their concerns and our knowledge of their residents' needs, we have become much more than the expert in outdoor advertising. Are also a trusted partner. Attentitive to the needs of cities and aware of the underlying trends, we are in constant dialogue with the countries in which we operate. That means we are able to share best practices all around the world.