Sea Harvest Corporation
LEADERS IN JOB CREATION & SUPPLIER DEVELOPMENT
About Sea Harvest Corporation
---
The Sea Harvest Group is a leading, internationally recognised fishing and food business with operations in South Africa and Australia, servicing retail and foodservice customers in 22 countries.
Established in 1964 in Saldanha Bay on the Atlantic West Coast of South Africa by Spanish-owned company, Pescanova, who joined forces with Southern Sea Fishing Enterprises and Imperial Cold Storage (ICS). Today, Sea Harvest has become a household brand and market leader in the fish category. The Sea Harvest Group is a Level 1 Broad-Based Black Economic Empowerment (B-BBEE) contributor and one of the largest empowered companies in its sector. The Group is listed on the Johannesburg Stock Exchange with its majority shareholder being Brimstone Investment Corporation Limited (Brimstone). Brimstone is a black owned Cape-based investment consortium, first invested in Sea Harvest in 1998 and acquired control in 2009.
The principal business is the fishing of Cape Hake and Shark Bay Prawns along with Horse Mackerel, Pilchards, Anchovies and a variety of farmed species, processing of the catch into frozen and chilled seafood, and the marketing of these products, locally and internationally. Sea Harvest owns and operates a fleet of 42 vessels which include single and twin fresh fish trawlers, factory freezer trawlers, and access to in-shore trawlers which catch and process Cape Hake, along other species, as well as by-catch such as kingklip and monk. In Australia, the Group has a further 11 prawn vessels through its subsidiary Mareterram which catch and process prawns, scallops, crabs and related by-catch species. Sea Harvest's fresh fish processing plants in Saldanha and Cape Town are built on deep-water quays. This enables the trawlers to tie up alongside and speedily off-load into the factory, essentially becoming part of the production line. Sea Harvest processes and packs over 100 products for the local and international markets between its factory freezer vessels, its three processing facilities in Saldanha Bay and Cape Town, and its five aquaculture operations in South Africa and Namibia.
The organic, wild-caught hake, prawns, horse mackerel, pilchard and anchovy products are complemented by a wide range of farmed, by-catch and agency products. The Group distributes its diverse range of chilled and frozen food products through an extensive and highly sophisticated distribution network that grants it access to a complete cross-section of international and local customers. Sea Harvest Corporation's retail products are distributed to all the major local supermarket chains in South Africa and can be bought in more than 2,000 stores countrywide. Moreover, the company supplies products to 22 different countries, including countries within the EU, North America, Australia and China. The company is also one of South Africa's leading importers and distributors of frozen seafood to the catering and hospitality industry. Sea Harvest markets its own brand of Cape Hake products and has been partnering with leading international brands and retailers since its inception in 1964.
The Group's business platform spans the value chain from trawling to sales ("sea to shelf") and integrates key value-added support services, such as quality control, logistics and supply chain management.
Developing Black Suppliers on the Cape West Coast
Sea Harvest was committed to developing black suppliers before enterprise and supplier development became part of the broad-based black economic development (B-BBEE) scorecard. With an overall B-BBEE score of 97%, the fishing company, which listed on the Johannesburg Stock Exchange (JSE) in March 2017, believes in doing more than just "ticking the boxes". Its investment philosophy ensures that investing in black businesses in local communities is a high priority.
Sea Harvest Procurement Manager and Chairperson of the West Coast Business Development Centre (WCBDC), Welmarie Coetzee, says, "When local businesses thrive, the whole community benefits. As the single largest employer in Saldanha Bay, this is a key focus for our business. We spend an average of R100 million doing business with local small- and medium-sized suppliers (SMMEs) on the Cape west coast, the majority of this being with black-owned businesses. There are many examples of small businesses that have experienced dramatic growth because of the continued work that they do with Sea Harvest," Coetzee says.
She adds that business advice and coaching are provided for developing entrepreneurs to assist them in achieving sustained business growth. To formalise this mentoring process, Sea Harvest, together with other corporates based on the west coast, established the WCBDC 20 years ago. "The Centre offers technical skills training and mentoring support to help entrepreneurs turn their dreams into a reality. In the year ending March 2017, Sea Harvest assisted 4,648 budding entrepreneurs; 490 new businesses were registered with the South African Companies and Intellectual Property Commission (CIPC); 822 people received training facilitated by the Centre; and much needed funding was provided to qualifying SMME's by the Small Enterprise Finance Agency and the Cape Agency for Sustainable Integrated Development in Rural Areas as a result of applications submitted with the WCBDC's assistance," explains Coetzee.
"It is extremely rewarding to play a role in helping people accomplish their dreams of starting their own businesses and then seeing how they, in turn, adopt the same investment philosophy of developing others with the aim of creating sustainable work opportunities and promoting social transformation and economic growth along the west coast," concludes Coetzee.
Case Studies
Suleiman Adjiet
Saldanha business owner, Suleiman Adjiet, has grown his transport company from just one taxi in 1998 to 20 taxis and 12 cold storage freezer trucks, largely thanks to Sea Harvest's procurement policies, which prioritises investing in local black suppliers. Sea Harvest's sea-going staff are transported to and from work by Adjiet's taxi business, which started with one driver. In 2004, he had sufficient capital to diversify and start another company, SHR Transport. He bought a cold storage truck and started pitching for contracts to deliver Sea Harvest's frozen hake to Cape Town. Today he is responsible for transporting frozen hake across the country.
S. Adjiet Transport: sadjiet@telkomsa.net/ 082 899 1033
Mornay Kurtz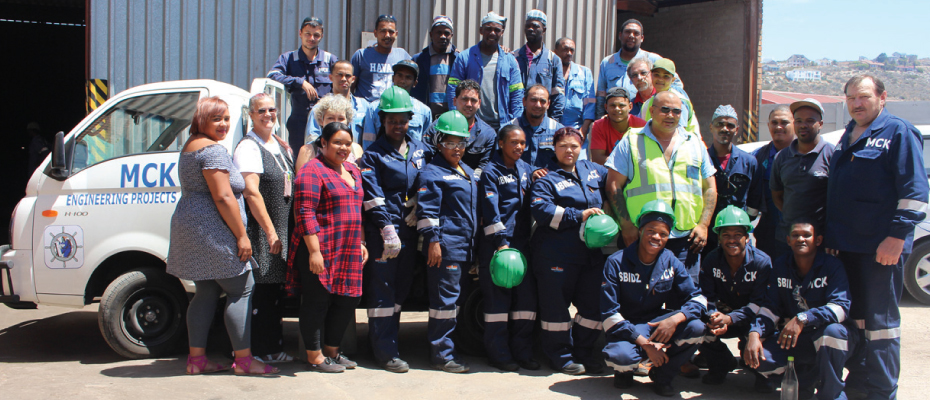 Mornay Kurtz is the owner of MCK Engineering, which has grown exponentially in recent years. He started doing welding and vessel maintenance for Sea Harvest 10 years ago with a staff complement of five. As he proved his reliability, Sea Harvest provided Mornay with increased opportunity, which resulted in him employing more people – he currently has 35 employees. Kurtz is just as keen as Sea Harvest to create employment opportunities and, in early 2017, opened a technical training school to teach welding skills to young apprentices.
MCK Engineering: mckengproj@gmail.com/ 022 714 0099